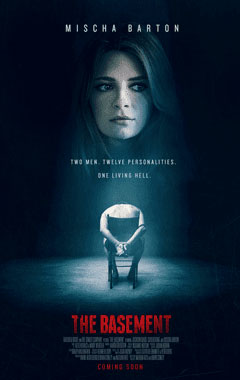 The Basement
(USA)
12:00 PM
Director: Brian M. Conley & Nathan Ives
The Basement revolves around a serial killer known as 'The Gemini' who tortures and murders his victims in the dungeon-like basement of his San Fernando Valley home. Gemini has already claimed seven victims, all of whom he has horrifyingly maimed and ultimately decapitated with a blowtorch, but his latest prisoners, famed musician Craig Owen and his wife, prove to be every bit the killer's equal in the art of psychological warfare.
Starring Mischa Barton (The Sixth Sense), Jackson Davis (Lonelygirl15), and Sarah Nicklin.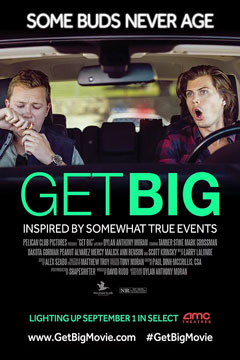 Get Big
(USA)
1:45 PM
Director: Dylan Anthony Moran
"Get Big" follows the misadventures of two friends as they reconnect at a high school classmate's wedding. Alec is the charming troublemaker, while Nate provides the neurotic and awkward foil to his friend's unpredictable antics. Over the course of a crazy 24-hour period they cross paths with oddball cops, curmudgeons, drug dealers, escorts, psychopaths, and pretty girls, …all while the clock ticks down their classmates big moment.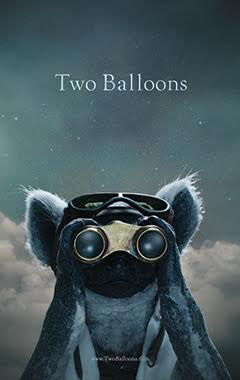 Two Balloons
(USA)
3:15 PM
Director: Mark C. Smith
After meeting in a place crossed by stars and clouds happenstance threatens to disrupt their world. Two travelers return to a place crossed by stars and clouds where love is at the beginning of everything.
HRIFF AWARD WINNER - BEST ANIMATED FILM

Feb 27th, Regal Cinemas LA LIVE
G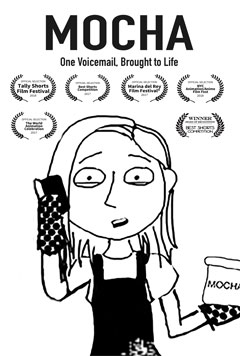 Mocha
(USA)
3:15 PM
Director: Kirstie Mattheis
SHORTS PROGRAM 27A
A voicemail message brought to life through animation. A message not left by an actor, but a long time friend having some trouble in the kitchen. Through their friendship of ten years, every voicemail left started with, "Hey dude, it's me." which is also the perfect beginning of this sweet animated film. With formal animation training, the director (a television VFX editor on "The Good Doctor") put her After Effects/Photoshop skills to use to create the film.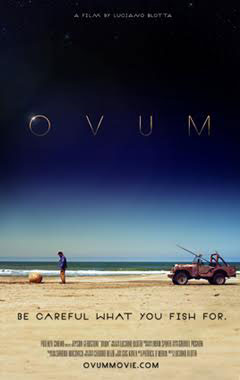 OVUM
(USA)
3:15 PM
Director: Luciano Blotta
SHORTS PROGRAM 27A
When a reclusive fisherman finds a giant egg on his desolate beach and decides to take it home, his life takes a big turn, for better or worse.
Far off in the recesses of a secluded coast, an isolated fisherman makes a discovery that will change his life forever.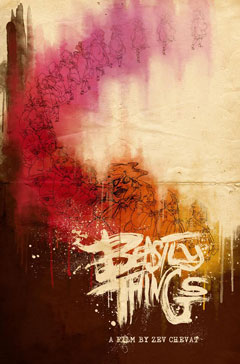 Beastly Things
(USA)
3:15 PM
Director: Zev Chevat
SHORTS PROGRAM 27A
In this traditionally animated horror film, a street artist encounters a vicious group of local schoolchildren, and learns what beastly behavior really means. Comprised of over 3500 hand-inked, digitally painted drawings, Beastly Things is an experiment in style that uses the optical conventions of animation to make each brutal narrative moment that much more visceral to viewers.
At once dreamlike and nightmarish, familiar and strange, this short film leaves a distinct impression.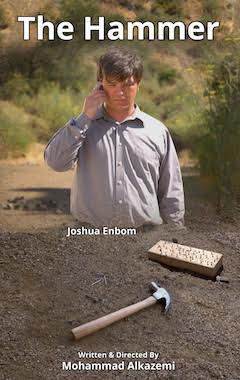 The Hammer
(USA)
3:15 PM
Director: Mohammad Alkazemi
SHORTS PROGRAM 27A
A desperate husband from his past relationship struggles with his inner-self to heal his pain by getting connected to his daughter who's never seen before.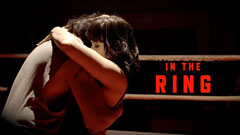 In The Ring
(USA)
3:15 PM
Director: Mesha Kussman
SHORTS PROGRAM 27A
Two tango dancers in a boxing ring, through passion, take each other down to the ground. But when lovers fight no one wins.
In The Ring is a visceral and seductive story, told through movement that reminds us of the futility of war and the common yearning for peace, in our relationships and in the world.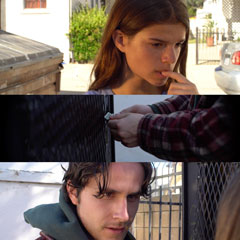 Exact Change Only
(USA)
4:30 PM
Director: Alexander Krashinsky
SHORTS PROGRAM 27B
A comedy about a man who fights with a vending machine (and his pride).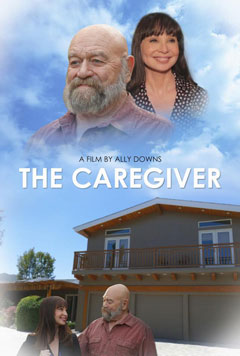 The Caregiver
(USA)
4:30 PM
Director: Ally Downs
SHORTS PROGRAM 27B
Angela is a caregiver, who arrives at the home of her new client, Ed, to find he is a grumpy man, who has given up on life and does everything possible to get her to quit. Over time they develop a bond of friendship and help each other find strength, hope, and new beginnings.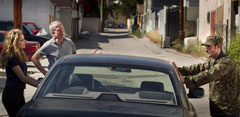 Homecoming
(USA)
4:30 PM
Director: Peter Gazdag
SHORTS PROGRAM 27B
When Nick returns from a tour-of-duty, to see his police-lieutenant father Robert. Concerned about Nick's well-being as well as following in his footsteps, he drills his son with a mock-interview when he learns Nick wants to apply to the Police Academy, but the mock interrogation turns personal and real.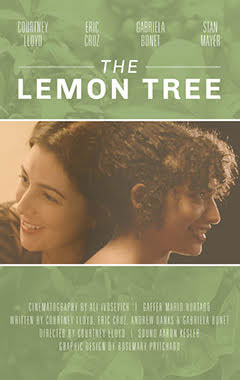 The Lemon Tree
(USA)
5:00 PM
Director: Courtney Lloyd
DRAMA SHORTS PROGRAM 27C
When neighbors have a dinner party, secrets are revealed, and relationships are tested, as one couple pushes the others too far, in this keenly observed character-based drama.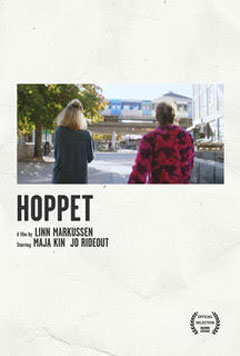 Hope
(Sweden)
5:00 PM
Director: Linn Markussen
DRAMA SHORTS PROGRAM 27C
A young woman is approached by the "Lady of Sass", and decides to run away from her mental hospital. The way home takes a turn when she realizes that "Lady of Sass" has other plans in store for her.
This is a story about mental illness, that explores wanting to live and the inability of living.
Do we alone carry the responsibility for our wellbeing?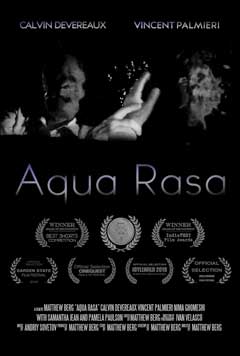 Aqua Rasa
(USA)
5:00 PM
Director: Matthew Berg
DRAMA SHORTS PROGRAM 27C
Harry asks the psychic to tell him about his forgotten family. The psychic paints mental images for Harry of his wife and son.
But is the psychic who he says he is? …or is he just trying to manipulate a senile man?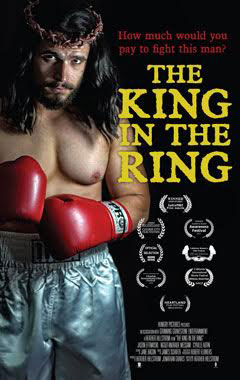 The King In The Ring
(USA)
5:00 PM
Director: Heather Hillstrom
DRAMA SHORTS PROGRAM 27C
In The King in the Ring, enterprising fight promoter dresses up boxers as Osama Bin Laden, Hitler, and other villains to give amateur fighters and audiences an outlet for their fury.
Thee idea is popular from the start, but when the promoter meets a boxer who looks like Jesus, the business really takes off.
Tonight's new challenger is desperate for the bout, angry and utterly broken after the death of his daughter. In the ring, the fight is intense, brutal, with an outcome no one could have predicted.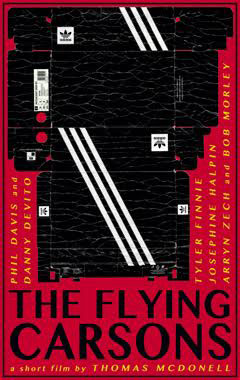 The Flying Carsons - Pt 1: Hunter
(USA)
6:00 PM
Director: Thomas McDonell
GENRE SHORTS 27D
Hunter Carson (Phil Davis) receives a letter from his old Uncle Jack (Danny DeVito) imploring him to visit in Spain.
When Hunter arrives in Barcelona and Jack is nowhere to be found, the young man follows a series of clues that lead him to a surprising revelation about his family and future.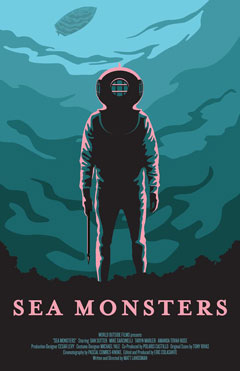 Sea Monsters
(USA)
6:00 PM
Director: Matt Landsman
GENRE SHORTS 27D
Sea Monsters is a dramatic adventure with elements of creature horror set in the heart of the Bermuda triangle and follows a grizzled, dying sea captain in his never-ending pursuit of unrequited love.
HRIFF AWARD WINNER - BEST ADVENTURE SHORT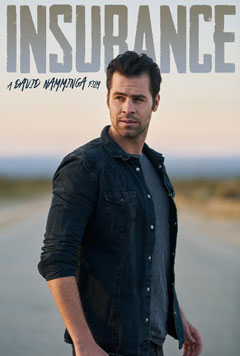 Insurance
(USA)
6:00 PM
Director: Robert Padilla
GENRE SHORTS 27D
Two con men stand off in the blistering desert, and the line between right and wrong blurs into the dust. Featuring music from country music star David Lee Murphy and hit maker Sawyer Brown.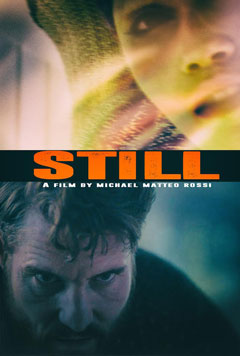 Still
(USA)
6:00 PM
Director: Michael Matteo Rossi
GENRE SHORTS 27D
A blend of suspense, thrills, and horror fills the film STILL.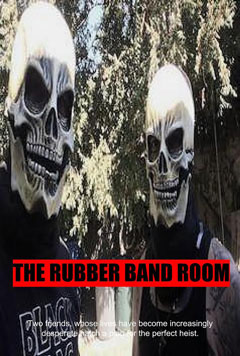 The Rubber Band Room
(USA)
6:00 PM
Director: Devlin Borra
GENRE SHORTS 27D
Two friends, with lives that have become desperate, hatch the plan for a perfect heist.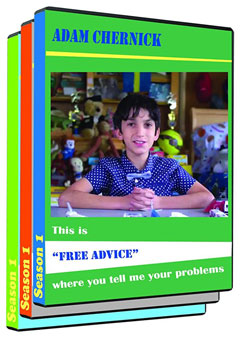 Free Advice with Adam Chernick
(USA)
7:00 PM
Director: Antony Beilinsohn
COMEDY SHORTS 27E
11 year-old stand-up comedian Adam Chernick helps conflicted and confused adults solve their real world problems using just his humor, honesty and heart.

Feb 27th, Regal Cinemas LA LIVE
G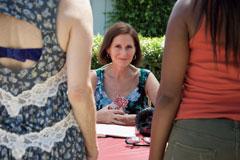 Happy Happy Bang Bang
(USA)
7:00 PM
Director: Russell Rothberg
COMEDY SHORTS 27E
Karey is a woman with a deep, full glass of emotions whose life demands that she only sip from the rim. Her family sees her as something between a glorified Uber driver and a valet. Her friends also take advantage of her good nature. The camel's back breaks and Karey acts out by stealing from family and friends and may find her bliss after all, …at the cost of collective chaos.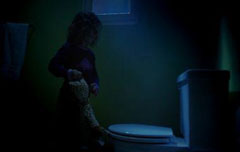 Magic Fingers
(USA)
7:00 PM
Director: Kevin McDermott
COMEDY SHORTS 27E
Magic Fingers is a short comedy horror film about the last remaining motel in the Northern Hemisphere equipped with "Magic Fingers" - coin operated devices that vibrate the beds for their guest's relaxation. But what are those strange sounds coming from the bathroom in Room #7? And could those sounds somehow be connected to the bed?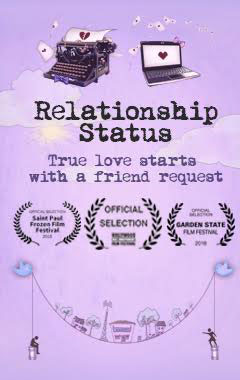 Relationship Status
(USA)
7:00 PM
Director: Peter Bean
COMEDY SHORTS 27E
A thoughtful romantic comedy about a technophobic guy living happily in a town with no internet until it becomes a Wi-Fi hot spot.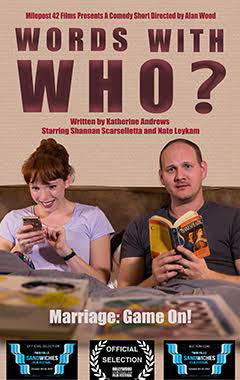 Words With Who?
(USA)
7:00 PM
Director: Alan Wood
COMEDY SHORTS 27E
A lonely, frustrated husband, struggles to achieve intimacy with his board-game-obsessed wife.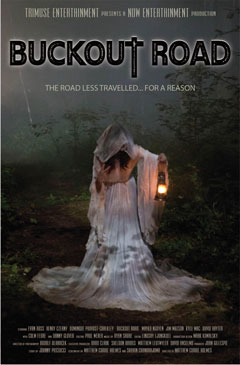 Buckout Road
(Canada)
8:15 PM
Director: Matthew Currie Holmes
Buckout Road might be known as the most haunted road in New York State, but nobody really believed it… until now.
A college class project on modern mythology turns deadly when a trio of students and an on-leave solider discover a series of horrific urban legends surrounding Buckout Road may actually be true. The deeper they dig into the road's dark history, the more dangerous their quest becomes.
From witches burning at the stake, to backwoods albino killers to a modern, unstoppable stalker, writer/director and horror-film aficionado Matthew Currie Holmes leaves no genre unexploited in this loving throwback to late-80's midnight movies.
Peoples Choice Award Nominee
HRIFF AWARD WINNER - BEST EDITING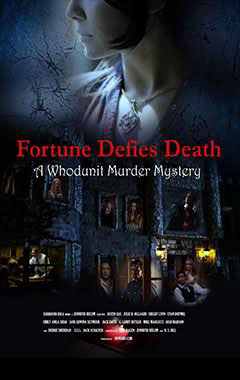 Fortune Defies Death
(USA)
10:00 PM
Director: Jennifer Hulum
Fortune Defies Death, a Clue-esque mystery-drama in the tradition of Agatha Christie's whodunits, brings nine heirs to a remote cabin in the woods to hear the last will and testament of George Woods on the tenth anniversary of his death. But before anyone can stake a claim to the Woods' fortune, each must survive the family attorney's investigation into the mysterious disappearance of Woods' adopted daughter. As the investigation unfolds, family members turn on each other and murder is the weapon of choice.