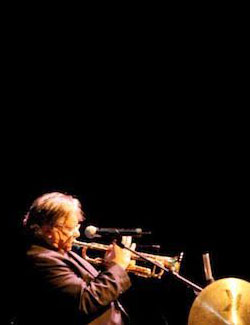 Arturo Sandoval: Heart and Music
(USA)
11:00 AM
Director: Francisco J.Ricardo, Ph.D
Arturo Sandoval is one of the most dynamic and vivacious live performers of our time, seen by millions at the Oscars, at the Grammy Awards, and the Billboard Awards. Following a month of concerts in Los Angeles at the Wallis Annenberg, HRIFF is proud to premiere this documentary focusing on his music and life.
Few musicians flee their country to follow their passion, and with the help of his great friend Dizzy Gillespie, legendary jazz trumpeter Arturo Sandoval made a daring escape from Cuba with his family to the US to continue his dream of being a musician, free from the jail-able "offense" that was jazz.
Featuring Quincy Jones & Andy Garcia.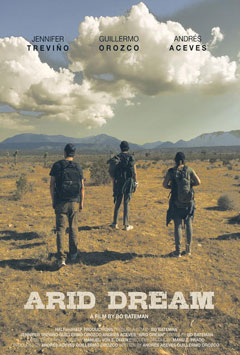 Arid Dream
(Mexico)
12:30 PM
Director: Bo Bateman
GENRE SHORTS 25A
After the death of their mother; Ana, Fernando and Sebastian start a journey that will change their lives. As they cross the desert they will have to face perils and situations that will test their relationship with each other. Together they will have to conquer hardships for a chance at a better life.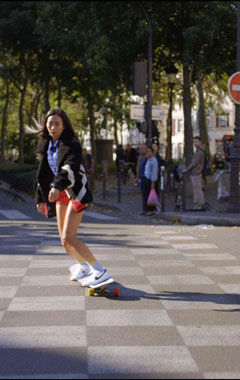 Locked Outside
(France)
12:30 PM
Director: Ross Richardson
GENRE SHORTS 25A
Two female skateboards look for freedom and escape from the trappings of Parisian life.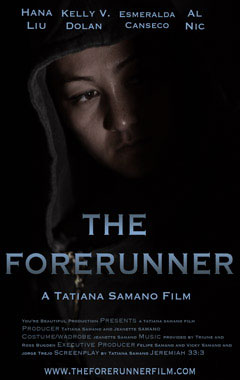 The Forerunner
(USA)
12:30 PM
Director: Tatiana Samano
GENRE SHORTS 25A
A character striving for perfection who learns to deal with her imperfections. A story about what can be gained once one focuses on what must be given up.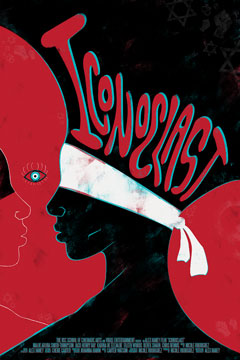 Iconoclast
(USA)
1:30 PM
Director: Alex Haney
LGBTQ SHORTS 25B
When his bathroom mirror reflection begins to separate from him, a mixed race teen must navigate a landscape of identity and change to come out to his parents before it's too late.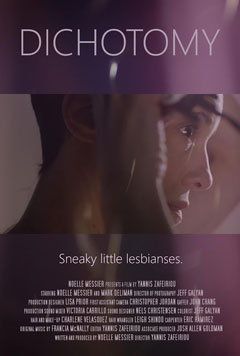 DICHOTOMY
(USA)
1:30 PM
Director: Yannis Zafeiriou
LGBTQ SHORTS 25B
Jane struggles to embrace her femininity as a butch lesbian. She shaves her head, which propels her on a humorous and twisted journey of self discovery. In the process, she has a debate with herself in the bathroom mirror as her demonic feminine side tries to suppress her innate masculinity. Eventually she finds peace and freedom in androgyny and discovers humanity is independent of sexual identity.
HRIFF AWARD WINNER - BEST LGBTQ SHORT FILM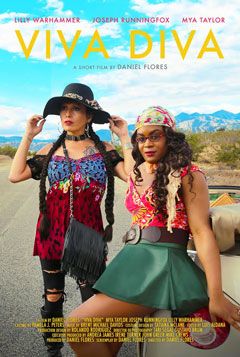 Viva Diva
(USA)
1:30 PM
Director: Daniel Flores
LGBTQ SHORTS 25B
Viva Diva is a road trip movie following Rozene and Diva as they make their way down to Guadalajara for their gender affirmation surgeries. Rozene stops in on her father to try to get answers about their fractured relationship, but drama stands in the way of her getting the closure she seeks.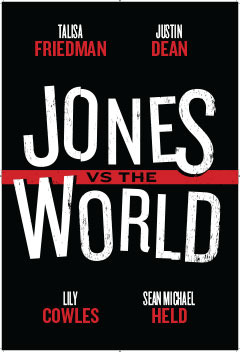 Jones vs. The World
(USA)
2:00 PM
Director: Justin Dean
GENRE SHORTS 25C
A man is often inhabited by spirits, sometimes against his will, to wrap up their sinister unfinished business. This ability threaten to wreak havoc on every aspect of his life including; his employment at the Hot Dog King, with his overbearing boss and his relationship with his stay-at-home model girlfriend. The only sense of normalcy provided to Jones is his quirky best friend named Tracey.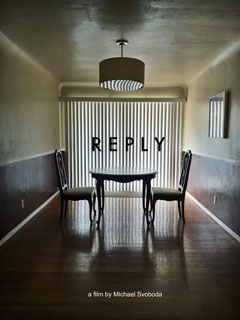 Reply
(USA)
2:00 PM
Director: Michael Svoboda
GENRE SHORTS 25C
A darkly satirical look at the repercussions of our online lives. It tells the story of what happens when a childhood friend comes looking for answers to a cyber squabble. A 'what if' tale of red state vs. blue state taken out of the realm of comments and replies, and placed squarely in the home.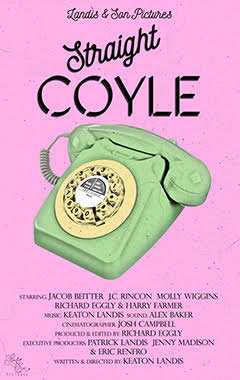 Straight Coyle
(USA)
2:00 PM
Director: Keaton Landis
GENRE SHORTS 25C
The first night as a driver for the Shaken Escort Service. He's got one job, get the girl to the client and back in one piece. But, ac lient with a taste for 'silly powder', a mysterious stranger, and a supernatural encounter are hell bent on screwing up his night…and his psyche.
HRIFF AWARD WINNER - BEST SCI-FI SHORT FILM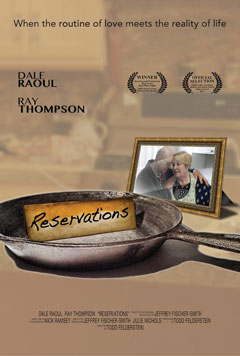 Reservations
(USA)
3:00 PM
Director: Todd Felderstein
DRAMA SHORTS 25D
A loving husband struggles to tell his wife that their lives are about to take a very dramatic turn. As time tends to have its way, many couples tend to fall into a stable routine. Gone are the ambitions of youth only to be replaced by a conservative sense of security. What happens when this routine is interrupted? Even more jarring, what happens when this interruption is irreversible. 
Change happens.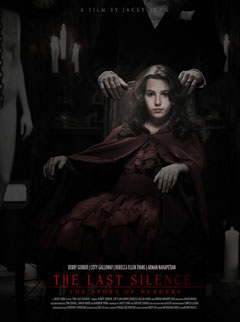 The Last Silence
(USA)
3:00 PM
Director: Jacky Song
DRAMA SHORTS 25D
A dramatic short, from first-time filmmaker Jacky Song.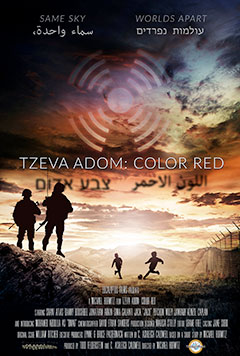 Tzeva Adom: Color Red
(USA)
3:00 PM
Director: Michael Horwitz
DRAMA SHORTS 25D
Ronit, a female solider serving in the Israeli Defense Forces, and Omar, a young Palestinian boy caught in the wrong place at the wrong time. When she shows compassion towards him and his older brother, tensions rise on both sides of the border. Now she must come to terms with what's right and what's smart in a world where social media runs rampant, everyone has a camera in their pocket, and acts of terrorism are normal.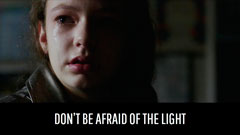 Don't Be Afraid of the Light
(USA)
4:00 PM
Director: Jason A. Rostovsky
HORROR SHORTS 25E
A mysterious supernatural force helps a young girl find the strength to fight back against a group of vicious bullies and a dark creature that haunts her at night. A deeply dark psychological drama that takes the form of a chilling horror. Don't Be Afraid... examines the trauma of physical and sexual abuse, bullying, and what really makes someone a monster.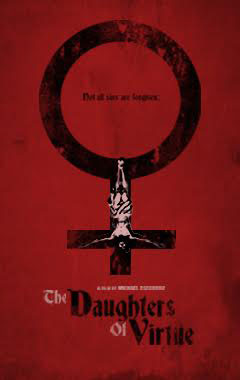 The Daughters of Virtue
(USA)
4:00 PM
Director: Michael Escobedo
HORROR SHORTS 25E
The Daughters of Virtue, is an homage to the classic horror films of the 70's and early 80's. With her husband always away on business, Alice, a bored housewife, hosts a local women's prayer group to help suppress her feelings of isolation. What begins as a routine meeting soon morphs into a fanatical intervention when the group confronts Alice over a dark secret she is hiding. 
The women become convinced a malevolent force is corrupting Alice and set out to rid her soul of evil.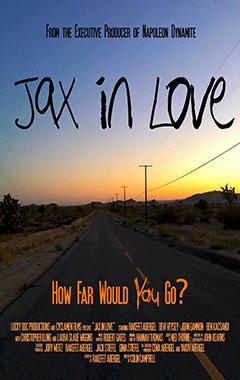 Jax In Love
(USA)
4:00 PM
Director: Colin Campbell
HORROR SHORTS 25E
A mysterious and lonely young woman is traveling through the expansive desert of the American West, in search of some tangible connection, a kindred spirit or like-minded soul with whom she can bond. When her car breaks down in the middle of nowhere, her journey takes a dangerous turn, and we learn this woman may not be who she seems at all.
How far will she go for love?
Will she make it out of the desert alive?
HRIFF AWARD WINNER - BEST HORROR SHORT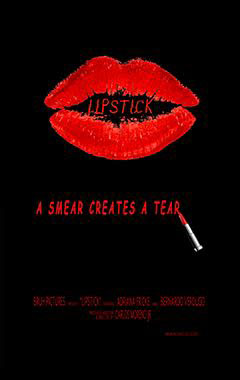 El Lipstick
(USA)
5:00 PM
Director: Carlos Moreno Jr.
COMEDY SHORTS 25G
A short comedy film from director Carlos Moreno Jr.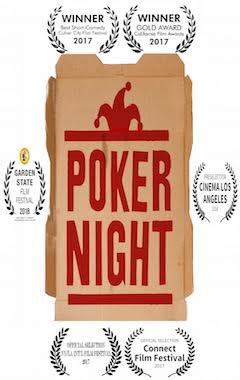 Poker Night
(USA)
5:00 PM
Director: Matt Ritchey
COMEDY SHORTS 25G
A group of poker players in Hollywood, turn a night of gambling into a prank and end up learning a life lesson when a mysterious letter shows up. Now, they have to figure out who is bluffing and who is really gambling in this test of friendship.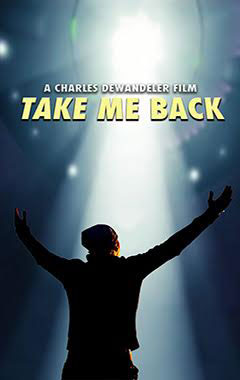 Take Me Back
(USA)
5:00 PM
Director: Charles Dewandeler
COMEDY SHORTS 25G
A reporter visits New Mexico to interview a support group of alien abduction victims. They call themselves the 'Take Me Back' club and they all have various reasons they want the aliens to abduct them again. During his investigation, Trevor discovers information which could expose a government cover-up and reveal the truth about extraterrestrial life.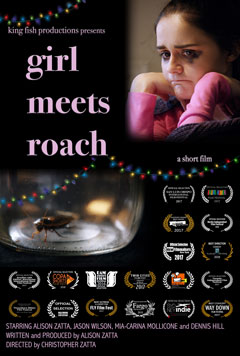 Girl Meets Roach
(USA)
5:00 PM
Director: Christoper Zatta
COMEDY SHORTS 25G
Reeling from a sudden pre-Christmas breakup, Maggie hides herself away from the outside world, avoiding work, friends, and a persistent delivery guy. When a cockroach appears in her apartment, Maggie's initial disgust slowly turns to affection.
Could her newfound friendship with the roach help her move on?
Or will discovering the extent of her ex's betrayal send her over the edge?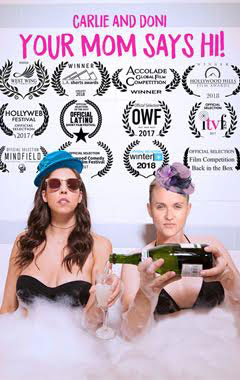 Your Mom Says Hi!
(USA)
6:00 PM
Director: Carlie Mantilla & Doni Carley
COMEDY SHORTS 25H
Two best friends, Carlie and Doni, create sketches and parodies ranging from topics such as bridesmaids and camel toes to lesbian dating and gangsta waitressing.
HRIFF AWARD WINNER - BEST WEB CONTENT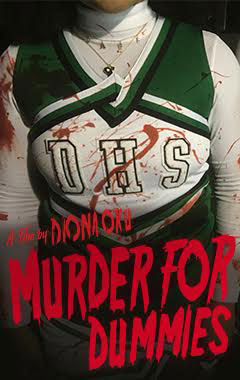 Murder For Dummies
(USA)
6:00 PM
Director: Diona Oku
COMEDY SHORTS 25H
Barbie and Lydia are best friends in high school. Lydia hates Barbie's boyfriend. Barbie hates him too. Barbie and Lydia decide to kill Barbie's boyfriend.
People's Choice Award Nominee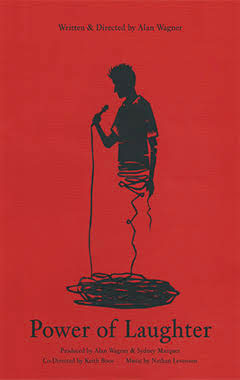 Power of Laughter
(USA)
6:00 PM
Director: Alan Wagner
COMEDY SHORTS 25H
A dark, melancholy comedy about a horribly tone-deaf comedian who ruthlessly chases fame but just can't catch a break. A commentary on how entertainment shapes our values. We watch Allan Lightstone live the ideals of the overtly masculine art that has inspired and shaped him, and how it creates misery not just for those around him, but for himself as well.
Watching his struggle, we feel for Allan even as we want to punch him in the face.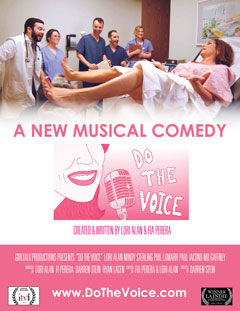 Do The Voice
(USA)
6:00 PM
Director: Darren Stein
COMEDY SHORTS 25H
"Do The Voice" is a musical-comedy starring Lori Alan, as a self-absorbed, but lovable,older, but famous, voice-over actress struggling to find true love and relevancy in the unforgiving world of Hollywood.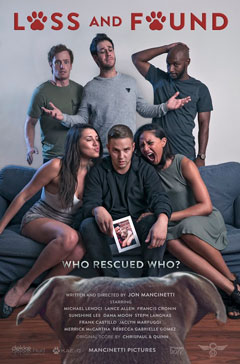 Loss and Found
(USA)
6:00 PM
Director: Jon Mancinetti
COMEDY SHORTS 25H
A young man is devastated after losing his best friend, his dog Russell. Eventually he finds purpose in his life through saving the lives of more rescue dogs. "Loss and Found is a heartfelt comedy based on a true story that addresses issues surrounding rescue dogs.
Peoples Choice Award Nominee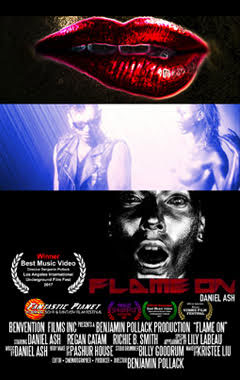 Flame On
(USA)
7:30 PM
Director: Benjamin Pollack
MUSIC VIDEO SHORT FILM PROGRAM 25I
Daniel Ash burns up the electric guitar in this heavy metal tune that brings to life a silver robot woman who rocks the screen with her electric energy.
HRIFF AWARD WINNER - BEST MUSIC VIDEO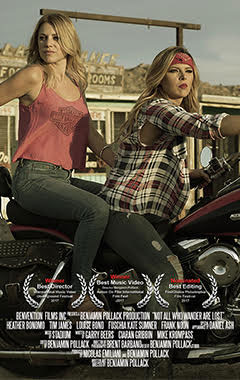 Not All Who Wander Are Lost
(USA)
7:30 PM
Director: Benjamin Pollack
MUSIC VIDEO SHORT FILM PROGRAM 25I
A beautiful young woman driving a Harley-Davidson across the desert pulls into a gas station where she see's another young woman being man-handled. She comes to her aid.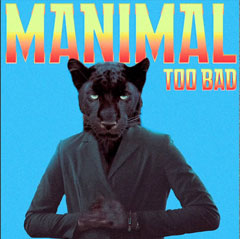 Manimal by Too Bad
(USA)
7:30 PM
Director: Gerry Becerril
MUSIC VIDEO SHORT FILM PROGRAM 25I
A single from the electronic rock band Too Bad.
This music video takes you on a journey with a magical television built in 1984.
Inspired by the grunge videos of the late 80's and early 90's, an experience in nostalgia, in music, and in visuals.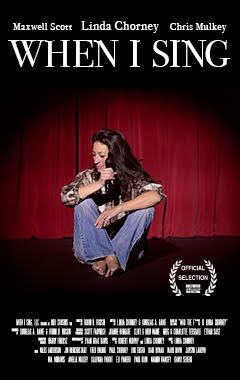 When I Sing
(USA)
8:15 PM
Director: Robin Uriel Russin
Based on the book "Who the F**K Linda Chorney?" from Grammy nominee Linda Chorney's about her wild and underdog ride toward almost being famous, after chasing the dream for thirty years.
Approaching 50, still gigging at clubs, bars, and ski resorts to make a living, Linda (playing herself) meets her biggest fans, Scott, (Maxwell Scott) and The Rock Doc (Chris Mulkey). They believe in her music so much that one finances her next and best album, and the other insists she submit it into The Grammy competition. Along the way, she falls in love, comes up against the music industry's prejudices and dirty little secrets, and becomes nominated.
Will this be her big break, or will it break her?
People's Choice Award Nominee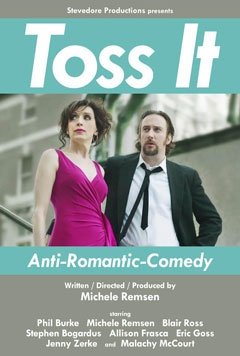 Toss It
(USA)
10:00 PM
Director: Michele Remsen
Two savvy adults discover what they don't know about themselves, in a delightfully subversive-film that starts where most rom-coms end.
The last two bitter singles at a wedding -- smart-skeptical Emily and obsessive-compulsive-flirt Finn -- seem a perfect match -- then everything gets tossed. Finn wonders why he's so messed up, and Emily wonders why she's so drawn to him. Circumstances drive them apart until a major curve-ball hits and pulls back the curtain on dearly-held traditions to reveal what made them who they are.
Finn and Emily a forced to kick against convention to find some kind of truth of their own in TOSS IT, a film that tosses tropes, dismantles genres and asks deep questions.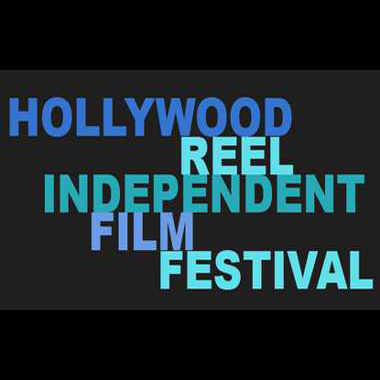 Sunday Night Reception Event
8:00 PM
Celebrate the first week of screenings at LA LIVE with our HRIFF Sunday Night Event.
The HRIFF Sunday Night Reception Event takes place in Downtown Los Angeles near LA LIVE.
Have drinks and socialize in downtown Los Angeles.
Meet your fellow filmmakers and have fun and drinks after a day full of film screenings.
A fun-filled social event not-to-be-missed!

Feb 25th, Venue To Be Announced