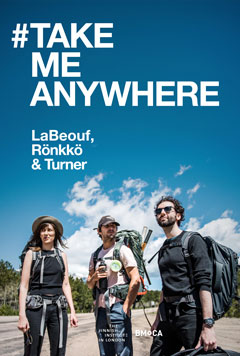 #TAKEMEANYWHERE
(UK)
11:00 AM
Director: LaBeouf, Rönkkö & Turner
LaBeouf, Rönkkö & Turner hitchhiked the internet for a project commissioned by Boulder Museum of Contemporary Art and the Finnish Institute in London.
For an entire month, the artists would post their coordinates online and wait for a ride. Whoever then appeared could take them anywhere they chose. For the duration of the project, their journey could be tracked in real time online, with their path entirely in the hands of the public.
HRIFF AWARD WINNER - BEST EXPERIMENTAL FILM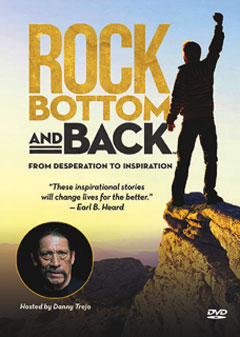 Rock Bottom and Back
(USA)
12:00 PM
Director: Steven Scaffidi
The documentary "Rock Bottom and Back", hosted by Danny Trejo, chronicles the personal journeys of people from all walks of life, from celebrities to ordinary people, that all overcame insurmountable adversities to now being able to give back in amazing ways. Their stories are heartfelt, authentic, real, and inspirational.
People's Choice Award Nominee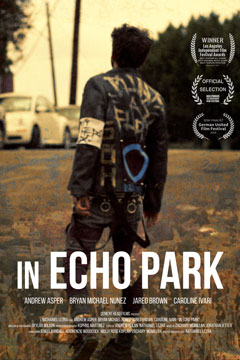 In Echo Park
(USA)
1:00 PM
Director: Nathaniel Lezra
The lives of a street punk, a millennial couple, and a Salvadoran teenager being recruited by a local gang collide, forming an interlocking story of class and identity in Echo Park, Los Angeles.
People's Choice Award Nominee
BEST CINEMATOGRAPHY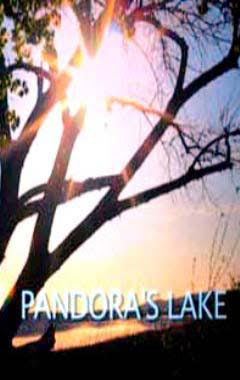 Pandora's Lake
(USA)
2:30 PM
Director: Brad Bryan
DRAMA SHORTS 23A
A couple strolls along a lakeshore to contemplate art and nature, then finds something in the water that makes them question their mortality.

Feb 23rd, Regal Cinemas LA LIVE
G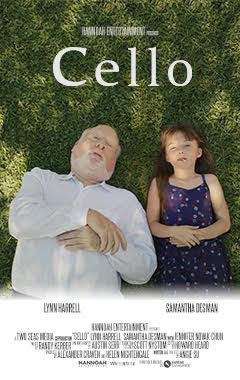 Cello
(USA)
2:30 PM
Director: Angie Su
DRAMA SHORTS 23A
The music driven short dramatic film, CELLO, brings together world class music talent and delivers a rich, heartfelt emotional life and death story about the universal bond between generations. Oscar nominated composer, Randy Kerber, composed the score and new single title song, "Remember Me", with Grammy Award winning lyricist, Glen Ballard, performed by international platinum - selling vocalist, Lara Fabian.

Feb 23rd, Regal Cinemas LA LIVE
G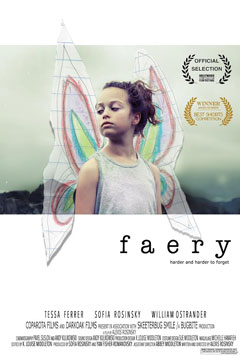 faery
(USA)
3:00 PM
Director: Alexis Rosinsky
SHORTS PROGRAM 23B
An immortal child fights to understand the ageless struggle between mothers and daughters. Blurring the line between fantasy and reality, young Luna (Sofia Rosinsky), faces the issues of loss and love as well as the consequences of her stubborn will and her love for Mamma (Tessa Ferrer). Mirroring the daily battles of children and the parents who love them, "faery" is a poignant and mysterious drama.
People's Choice Award Nominee
HRIFF AWARD WINNER - BEST NEW FILMMAKER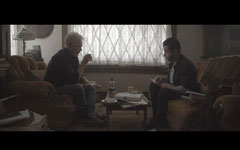 The Obituary
(USA)
3:00 PM
Director: Jonathan Thompson
SHORTS PROGRAM 23B
A penniless writer who dreams of penning the great American novel takes a job writing obituaries to pay the bills. When he shows up to a man's home to get a statement regarding someone's passing, he's confronted with a life or death situation of his own. Starring Anthony Geary.
People's Choice Award Nominee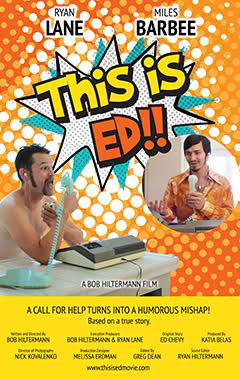 This Is Ed!
(USA)
3:00 PM
Director: Bob Hiltermann
SHORTS PROGRAM 23B
Lighthearted comedy based on a true story, illustrating the difficulties that two deaf friends have communicating with each other.
People's Choice Award Nominee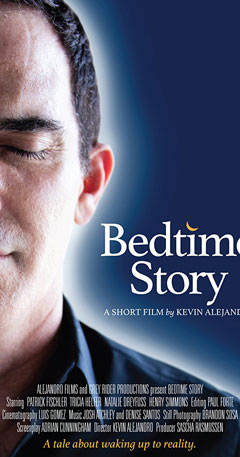 Bedtime Story
(USA)
3:00 PM
Director: Kevin Alejandro
SHORTS PROGRAM 23B
A dark comedy short about a cash-strapped literary agent who hatches a plan to turn a mediocre writer into a best selling novelist. Featuring a great cast that includes Patrick Fischler (Mad Men) and Tricia Helfer (Lucifer), this sweet sardonic tale explores the truism that all success is relative, and if as an artist, you eventually find your audience, it may not be the audience you'd hoped for.
People's Choice Award Nominee

Feb 23rd, Regal Cinemas LA LIVE
PG-13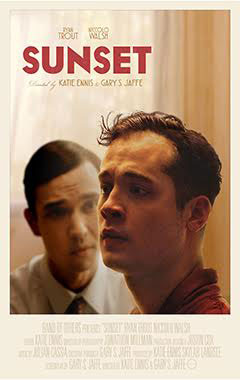 Sunset
(USA)
4:00 PM
Director: Katie Ennis & Gary Jaffe
SHORTS PROGRAM 23C
In the days following Pearl Harbor, a duty-bound gay man must decide whether to serve overseas or remain in New York City with his bohemian lover. Starring Ryan Trout and Niccolò Walsh as Peter and Arnie who find each other in the shadowy gay world of the early 1940's. When the United States enters the WWII, they must decide if they are willing to fight for a country that does not accept them.
Honor, responsibility and patriotism collide with sexuality, otherness, and of course, love.
HRIFF AWARD WINNER - BEST SCREENPLAY (2nd Runner Up)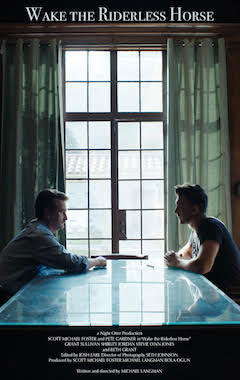 Wake The Riderless Horse
(USA)
4:00 PM
Director: Michael Langman
SHORTS PROGRAM 23C
Wake the Riderless Horse takes an alternate look at what has become an all too familiar story of addiction and heartbreak.
We follow Jonathan as he succumbs to an opioid addiction and is confronted by an unusual character that has been watching his journey from the very beginning.  Before he slips into oblivion, he must first see how his untimely death affects the ones that love him the most.
Wake the Riderless Horse begins at the end in order to shed a compassionate light on a troubled young man's struggle with addiction … and a pangolin.
HRIFF AWARD WINNER - BEST SUPPORTING ACTRESS in a Short Film (Beth Grant)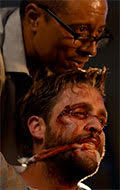 The Lesson
(USA)
4:00 PM
Director: Joey Medina
SHORTS PROGRAM 23C
A man has a motional breakdown when he loses his wife and daughter to a texting and driving accident. He takes the law in his own hands to teach the other driver a lesson he will never forget.
People's Choice Award Nominee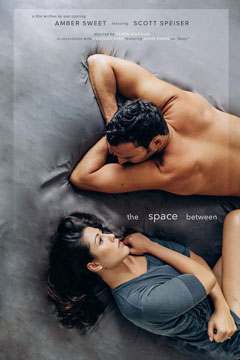 The Space Between
(USA)
5:00 PM
Director: Taren Maroun
AWARD SHORTS PROGRAM 23D
An act of triumphant feminism, in a time that sorely needs it. Starring HRIFF 2018 Award Winner John Ennis.
HRIFF AWARD WINNER - BEST ACTOR in a Short Film (John Ennis)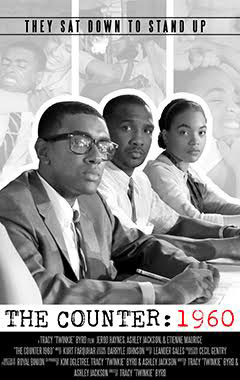 The Counter: 1960
(USA)
5:00 PM
Director: Tracy "Twinkie" Byrd
AWARD SHORTS PROGRAM 23D
Three North Carolina University students, Joseph, Diane, and Franklin, are frustrated by a string of brutal police shootings of unarmed black youth. The friends decide to meet and strategize how they can make a difference. 
While Joseph waits for his friends he receives a call from his parents. He listens as they share protest stories that his grandparents experienced during the Civil Rights Movement. Shortly after, Joseph pulls out two heirloom pieces he inherited from his grandfather, a Masonic ring and watch. He slips on the jewelry and a miraculous occurrence happens, …time travel.
Joseph and his friends find themselves seated at a 'whites only' lunch counter in rural North Carolina, circa 1960. 
HRIFF AWARD WINNER - BEST SUPPORTING ACTOR in a Short Film (Buddy Lewis)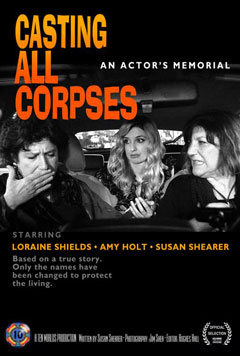 Casting All Corpses: An Actor's Memorial
(USA)
5:00 PM
Director: John Kosh
AWARD SHORTS PROGRAM 23D
Kelly and Maureen are two actresses who dared to age in Hollywood.
Their beloved acting coach Harry has died and they've carpooled to his memorial with ingénue Bobbi who is everything they are up against. Bobbi, in the backseat, takes many calls booking work, while Kelly and Maureen share their vodka filled flask as well as life lessons on surviving auditions and keeping hope alive.
Death sparks a conversation about life, death, acting and aging gracefully.
Rooted in the backdrop of auditions and Hollywood tropes, this comedic film is about sustaining friendship before (and after) death.
HRIFF AWARD WINNER - BEST COMEDY SHORT

Feb 23rd, Regal Cinemas LA LIVE
PG -13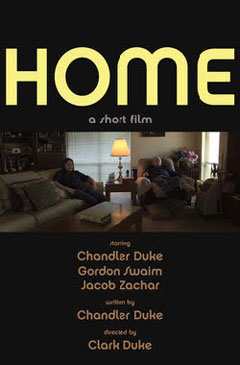 HOME
(USA)
6:00 PM
Director: Clark Duke
AWARD SHORTS PROGRAM 23E
A young man in the midst of a personal crisis goes home to visit his ailing grandfather and his childhood best friend.
HRIFF AWARD WINNER - BEST SHORT FILM

Feb 23rd, Regal Cinemas LA LIVE
PG -13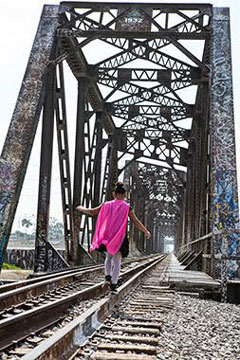 Marisol
(USA)
6:00 PM
Director: Juan Escobedo
AWARD SHORTS PROGRAM 23E
A little girl from East LA dreams of the perfect Quinceañera dress when her life takes a drastic turn after an incident of domestic violence.
"Marisol" is inspired by real events and aims to raise awareness on the effects domestic violence has on Women and Children.
HRIFF AWARD WINNER - BEST DRAMA SHORT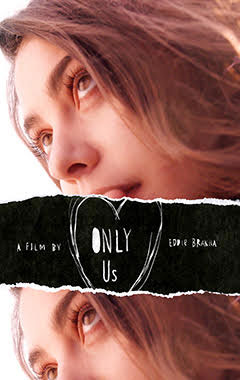 Only Us
(USA)
6:00 PM
Director: Eddie Brakha
AWARD SHORTS PROGRAM 23E
Young romantics Elia and Eddie are living the fantasy of their love - until they begin to see the reality of their lives. 
A tale of modern love, where two people test the boundaries of their hearts to discover the selfish nature of their twisted love. 
HRIFF SHORT FILM AWARD WINNER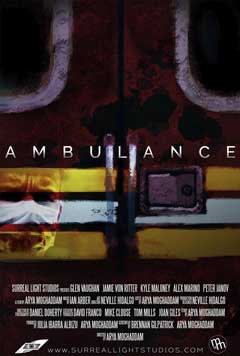 Ambulance
(USA)
6:00 PM
Director: Arya Moghaddam
AWARD SHORTS PROGRAM 23E
A thrilling short film with a surprise ending that is best experienced in the theater.
HRIFF AWARD WINNER - BEST SHORT THRILLER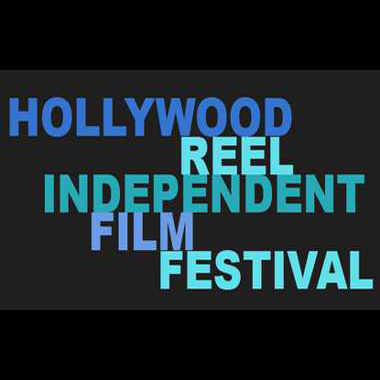 Red Carpet Press Event
5:30 - 6:45 PM
Join HRIFF Celebrity Guests, Award Winners, and film fans at our HRIFF Red Carpet Press event.
Press, Media Photographers, and Paparazzi will be on hand from 5:30 to 6:45 to catch filmmakers, friends, family and celebrities guests for press images going out to the media, print, and online press.
Staff Photographers will be on hand from 4pm till 10pm. But press will be around only for our Red Carpet Press Event from 5:30 - 6:45pm prior to our 2018 HRIFF Award Ceremony.
Awards Ceremony requires an Award Ticket purchase for entry, but Red Carpet Press Event is open to all festival guests and filmmakers to attend!

Feb 23rd, Regal Cinemas LA LIVE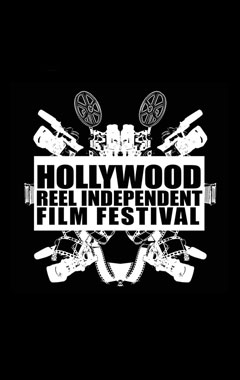 HRIFF 2018 Award Ceremony
6:45 PM
(6:30pm line / 6:40pm seating / 6:45pm Event Start)
Our Award Ceremony this year is an event not to be missed.
Between Press and Award Winner ticket holders; the number of seats available to General Public are very limited, so get your tickets now...
...while supplies last!
Cheer on your favorite filmmakers and movie stars (both up and coming or legendary)
& get ready to be surprised, ...as this event always ends up with a few unexpected celebrity guests and tributes!
Pierce Brosnan, Hilary Duff, Joe Mantegna, Gary Cole, Dominic Purcell, Grace Zabriskie, Frances Fisher, Alanna Masterson, Tyler Blackburn, Ed Asner, John Robinson, Bruce Davison, Lee Meriwether, Dee Wallace, Uwe Boll, and dear HRIFF friends no longer with us like the wonderful Joe Polito, Martin Landau, John Heard, and the legendary Harry Dean Stanton (who brought the HRIFF Award Ceremony house to tears his epic rendition of Danny Boy in 2016), and even more fantastic friends then we can mention, happening to stop by…
…who knows what stars will surprise us at the HRIFF Award Ceremony stage this year?
Preceded by
Red Carpet Ceremony
5:30 - 6:45pm

Feb 23rd, Regal Cinemas LA LIVE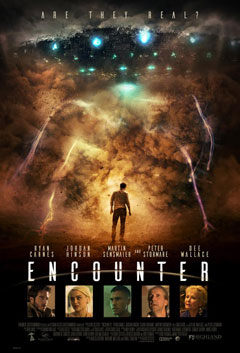 Encounter
(USA)
8:15 PM
Director: Fulvio Sestito
"Encounter" is a sci-fi/thriller that tells the story of a provocative documentarian as he attempts to disprove the alien abduction phenomenon.
Chris and his camera-man/best-friend, travel to New Mexico to attend a UFO convention and interview flamboyant characters and "abductees". But they begin to question their conviction after encountering a "strange cloaked figure" and meeting a beautiful girl who believes she is abducted every seven years, on her birthday.
Unless he can find a way to expose the truth, it is going to happen, again.
HRIFF AWARD WINNER - BEST SUPPORTING ACTOR (Peter Stormare)
HRIFF AWARD WINNER - BEST SCI-FI FEATURE FILM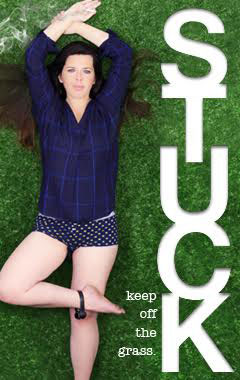 Stuck
(USA)
9:45 PM
Director: Jillian Armenante
Darby Dixon (Heather Matarazzo) is a nurse who never met a rule she didn't break, bend or ignore. She wants to be better, and face her demons, if only someone will show her how and before she gets super bored. After getting into trouble with the law, Darby is sentenced to house arrest, and now must spend 30 days in the house she once shared with her ex-boyfriend, which he now shares with his beautiful new fiancee. Because she can't help herself, Darby spends the month being the unwelcome guest from relationships past -- which certainly helps take the sting out of Mo being so damn happy in love.
HRIFF AWARD WINNER - BEST ACTRESS (Heather Matarazzo)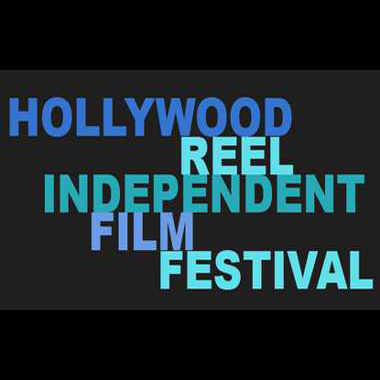 Award After-Party
10:30 PM
After seeing all the festival Celebrities on the Red Carpet at our star-studded Award Ceremony: buy an Award Ceremony After-Party Ticket and head over to our secret After-Party Location (inside of LA LIVE) for our BIGGEST and WILDEST party celebration of the festival!
The HRIFF AWARD AFTER PARTY takes place at LA LIVE near the Award Ceremony Theater and nearby Regal Cinemas where our film screenings are held each day.
Explore LA LIVE, drink, dance, & meet your fellow filmmakers to have fun after a day evening of celebrity sightseeing. Who is to say what stars may come out to party and rub elbows with you?
Don't miss the most talked about and biggest party extravaganza of the festival!

Feb 23rd, Venue To Be Announced