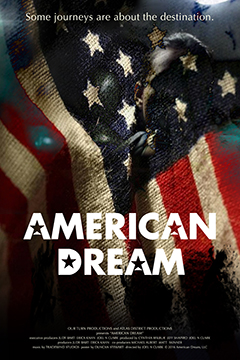 American Dream
(Mexico)
12:00 PM
Director: Joel N Clark
From the Executive Producers of the acclaimed documentary Blackfish and director Joel N Clark comes an epic trek of survival, hope, mercy, and human will. An expectant mother determined to give her unborn child a life she never knew. A devoted son torn between seeking freedom and living far from the home and mother he loves. A daughter struggling to comprehend the cost of losing her family in order to begin one of her own in a new land. American Dream is as humanizing as it is shocking, with never-before-seen footage that provides an unvarnished examination of human migration.
An unflinching look into the perilous journeys of the undocumented, a collection of very raw and deeply memorable characters who will stay with you long after the credits roll.
This is the story of American Dream. Some journeys are about the destination.
BEST EDITING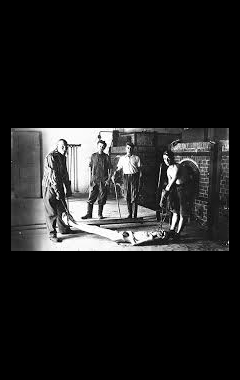 An Undeniable Voice
(USA)
1:00 PM
Director: Price Arana and Adam Rothlein
Sam Harris, believed to be one of the youngest to survive the camps during the Holocaust, shares his amazing story of survival with philanthropist and activist Sharon Stone in this moving, new short Documentary.
BEST DOCUMENTARY SHORT FILM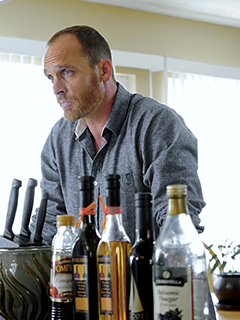 Those Eyes
(USA)
1:15 PM
Director: Nick Scown
DRAMATIC SHORTS 17A PROGRAM
A young man (Ethan Embry) tracks down his birth mother (Romy Rosemont) to get answers to his life long questions, but finds the truth may be harder to live with than the unknown in this intense drama from director Nick Scown.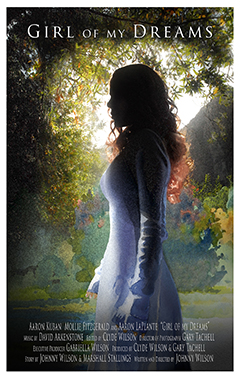 Girl of My Dreams
(USA)
1:15 PM
Director: Johnny Wilson
DRAMATIC SHORTS 17a PROGRAM
Edward Watson searches for the same thing that most people seek ... answers.
What he will find to be more important are the questions he needs answers to.  As an artist, Edward expresses himself with paintings that reflect his dreams. In his dreams, he sees a girl.  She visits him every night, again and again.  Awkwardly and full of insecurities.
Edward has searched for the meaning of his dreams by reading books and visiting doctors, never looking in the right places.  One day he finds a way to live in his dreams with full consciousness.
Tonight, he will explore his own mind to find meaning that can change his life forever.

Feb 17, Regal Cinemas LA LIVE
G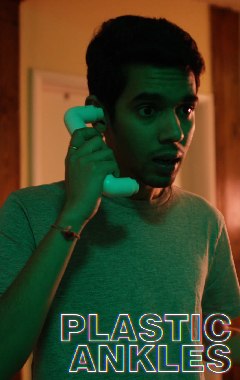 Plastic Ankles
(Hong Kong)
1:15 PM
Director: Tiffany Kim Hoa Stevens
DRAMATIC SHORTS 17A PROGRAM
A young man named Marlon is wrongfully found guilty for a crime he did not commit. He reaches a point of loneliness in his arrest that 3 imaginary friends come visit to help him grasp his undeserving situation.
BEST STUDENT SHORT FILM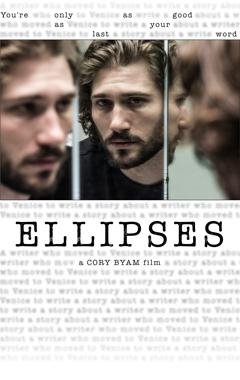 Ellipses
(USA)
2:00 PM
Director: Cory Byam
SHORTS 17b PROGRAM
In the twisted spirit of THE TWILIGHT ZONE and BLACK MIRROR comes writer/director Cory Byam's psychological thriller set in famed Venice Beach, CA.

When a reclusive novelist moves to the eccentric beach town in a last-ditch effort to write his breakout novel, his story quickly takes on a life of its own. Pages appear night after night, filled with eerily-personal details of the novelist's own past, and he soon finds himself at odds with his own protagonist over control of the story's outcome. Now an unsettling question emerges: could the novelist be just a character in someone else's story?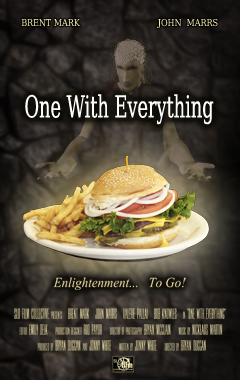 One With Everything
(USA)
2:00 PM
Director: Bryan Duggan
SHORTS 17b PROGRAM
A stressed-out Ad Exec is changed forever after entering a diner where he becomes enlightened by a cheeseburger.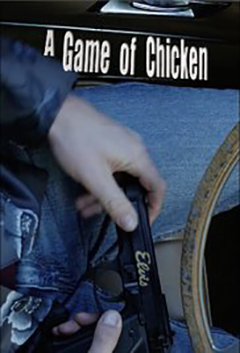 A Game of Chicken
(USA)
2:00 PM
Director: Michael Hilf
SHORTS 17b PROGRAM
A jammed gun leads to unforeseen problems in the short film A Game of Chicken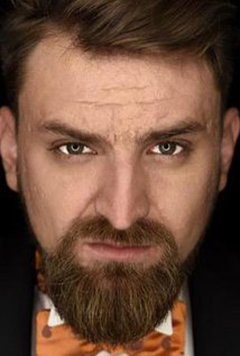 Hot Set
(USA)
2:00 PM
Director: Cyril Zima
SHORTS 17b PROGRAM
As a porno production takes place in the mountains, they receive the worst news imaginable - a nuclear was has broken out, resulting in a ticking clock for humanity.
This 18+ comedy is more than it looks, it's a portrait of human civilization. It's a story of the arts and the perception of death. What would you do, if you knew you only had 10 minutes left until the end?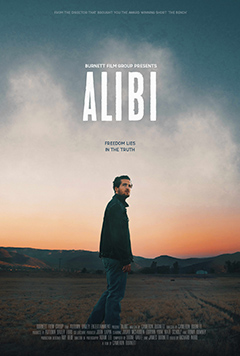 Alibi
(USA)
3:15 PM
Director: Cameron Burnett
Adam, a man in a small town is accused of a murder he didn't commit. His Alibi is that he was secretly in bed with his brother Isaac's wife. This moral dilemma centers around freedom or incarceration. There is no easy way out. The Alibi securing Adam's freedom will result in ruining Isaacs marriage and breaking his heart. On the other hand, Adam's silence would save his brother from this heartbreaking truth.
Will the siblings be torn apart by infidelity or by prison walls?
BEST SUPPORTING ACTOR - Jonathan Banks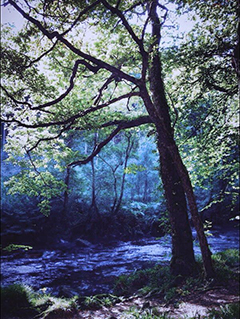 Slow Fade To Autumn
(USA)
4:00 PM
Director: MARIE TANG URQUIDI
SHORTS 17c PROGRAM
88 year old tv writing veteran, Anthony Lawrence, met filmmaker Marie Tang Urquidi at the Motion Picture & Television Fund.  Their collaboration first began when she followed his journey in a web series documentary titled Alive and Kicking.
Slow Fade To Autumn, is the story of his wife and her long lasting impression on him as he struggled to make it Hollywood.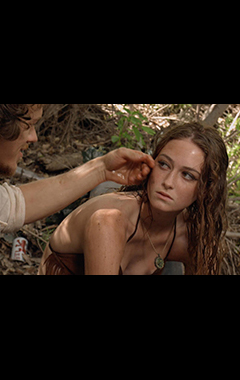 Prettyface
(USA)
4:00 PM
Director: Jessica Janos
SHORTS 17c PROGRAM
Two teen girls encounter a family living on a movie ranch. Not any family. The Manson family.
BEST ACTRESS in a Short Film - Annalise Basso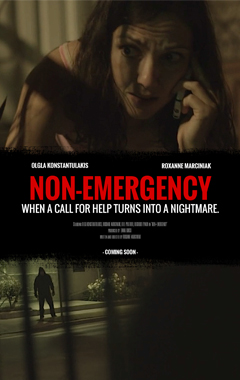 Non-Emergency
(USA)
4:30 PM
Director: Roxanne Marciniak
SHORTS 17d PROGRAM
Non-Emergency--When a call for help turns into a nightmare. A young woman calls the police non-emergency number in the middle of the night to report a man repeatedly hitting a stop sign.  While on the phone, and home alone, her circumstances take a radical turn.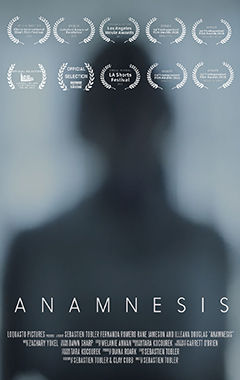 Anamnesis
(USA, Switzerland)
4:30 PM
Director: Sebastien Tobler
SHORTS 17d PROGRAM
Starring Fernanda Romero - Drag me to Hell (2009), The Eye (2008), Rane Jameson - Spanners (2013) and Illeana Douglas - Cape Fear (1991), Goodfellas (1990) Celine gives life to her lost love and attempts to resurrect the past using her memories. 
Guillermo searches for who he is and fights for meaning between a fragmented past. ANAMNESIS is a futuristic treatise on love and consciousness in seeing how far true love will take you.
BEST SCI-FI SHORT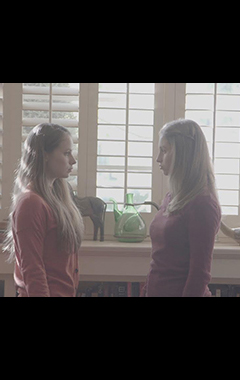 The Perfect Family
(USA)
4:30 PM
Director: Ron Oscar Sierra
SHORTS 17d PROGRAM
The Perfect Family is the story of two sisters looking to create the perfect family for themselves by way of taxidermy. It's the perfect suspense filled thriller that has the feeling of a modern day Alfred Hitchcock "Phsyco" meets the "Twilight Zone". As a new Director Ron Sierra has balanced out the Horror and Thriller genre with a slight touch of humor to make this Short Film something unique and enjoyable to watch. The Perfect Family is cleverly crafted to leave its audience wanting the feature length version.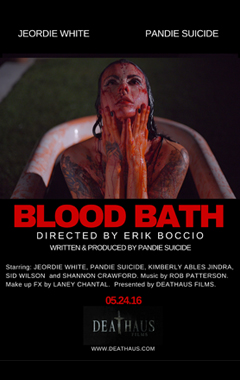 Blood Bath
(USA)
4:30 PM
Director: Erik Boccioa
SHORTS 17d PROGRAM
Elizabeth Bathory, better known as the 'Blood Countess' was a Hungarian Countess infamous for allegedly bathing in the blood of virgins to keep her youthful good looks. Blood Bath is a reimagined Liz Bathory who dips her toe in the modern dating pool.
Starring Jeordie White, a.k.a 'Twiggy Ramirez' (Marilyn Manson, Nine Inch Nails), and Pandie Suicide (Ditch Day Massacre, David Lynch's 'Crazy Clown Time') as Liz with Slipknot's Sid Wilson appearing as 'The Frozen Guy'. 
Directed by Erik Boccio (MASSACRE). The film features a haunting score, provided by ex-Korn/ Filter/Otep guitarist and composer Rob Patterson with a track by Poppy Jean Crawford and  make up magic created by artist Laney Chantal.
BEST HORROR SHORT
Schoolboy Q 'John Muir'
(USA)
5:00 PM
Director:  Aplusfilmz
SHORTS 17e PROGRAM
In the music video for Schoolboy Q's modern gangster rap anthem 'John Muir', a story of reckless abandon and rebellion in the streets of Los Angeles unfolds from the point of view of a stolen El Camino, as two teenage boys fall into an endless cycle of violence and karma. 'The concept of change is second rate to change. Either way around the cycle still remains.'
BEST MUSIC VIDEO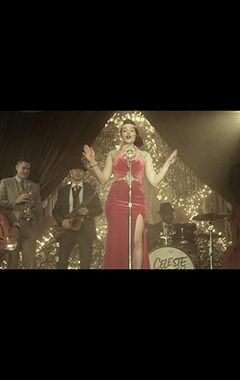 Kool
(USA)
5:00 PM
Director:  LazRael Lison
SHORTS 17e PROGRAM
"Sometimes True Love transcends time."
KOOL' is a 1920's themed MUSIC VIDEO by the L.A. based powerhouse vocalist CELESTE STONEY. A finalist on American Idol, Diddy's Making the Band, and featured on Perez Hilton, CNN, and iHeartMoosiq, among others.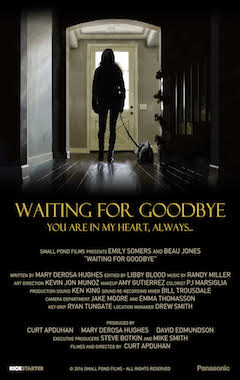 Waiting For Goodbye
(USA)
5:00 PM
Director: Curt Apduhan
SHORTS 17e PROGRAM
"Waiting For Goodbye" explores the thoughts and emotions of Claire as she experiences the final morning with her beloved Shih Tzu, Beau. Through her process of letting go, Claire reflects on her immense love for Beau, and the realization that he has been with her for over half of her life. As the moment of the last goodbye approaches, Claire tries desperately to hold onto a moment that will soon be a memory.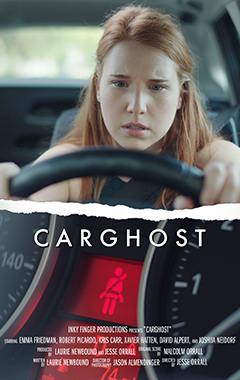 Carghost
(USA)
5:00 PM
Director: Jesse Orrall
SHORTS 17e PROGRAM
After the untimely death of her best friend, Lily starts to see ghosts in the passenger seat of her car.  Emotionally frazzled, she questions the ghosts' intentions, as well as her own sanity.
The film is a bittersweet fantasy about the grieving process, growing up, and moving on.  It strives for heart and humor in the face of loss.
A deeply personal film for many in the cast and crew, it examines how past relationships can impact one's future.
BEST FANTASY SHORT FILM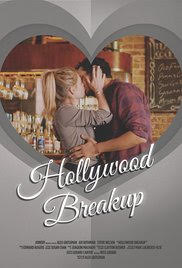 Hollywood Breakup
(USA)
5:30 PM
Director:Alex Grossman
SHORTS 17g PROGRAM
Hollywood Breakup is the classic Hollywood story of boy meets girl, boy loses girl, boy has to give the performance of a lifetime to get back girl.
People's Choice Award Nominee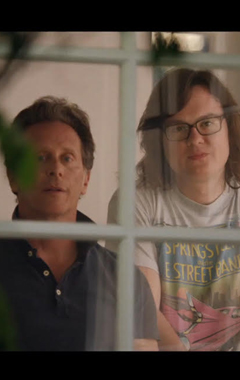 Show Business
(USA)
5:30 PM
Director: Clark Duke
SHORTS 17g PROGRAM
Clark Duke, Steven Weber, Chris Candy, star in "Show Business" from Director Clark Duke. Show Business is a look into the life of a somewhat-successful actor and his family and friends.
Think: Robert Altman's Seinfeld. The anti-Entourage. Swingers 2017. That's probably enough references.
BEST SUPPORTING ACTOR in a Short Film - Steven Weber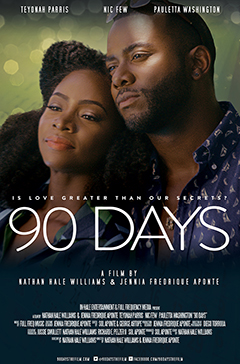 90 Days
(USA)
6:00 PM
Director: Nathan Hale Williams & Jennia Fredrique Aponte
SHORTS 17h PROGRAM
A riveting story of love, integrity and compassion, 90 DAYS explores a beautiful couple's relationship and their life altering decision after ninety days of dating. Fueled with gripping performances by an extraordinary cast led by Teyonah Parris and Nic Few, 90 DAYS confronts the human experience of overcoming one of life's greatest perceived challenges. It asks the question, "Is love greater than our secrets?"
Written by Nathan Hale Williams and directed by Williams and Jennia Fredrique Aponte, the film is entertaining, authentic and visually stunning. Based on a true story, 90 DAYS is a film that will touch hearts while navigating the definition of ultimate compassion.
BEST SHORT FILM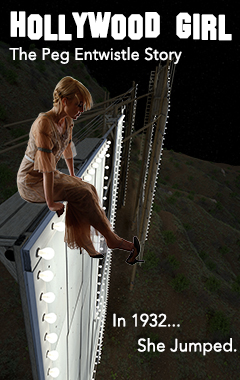 Hollywood Girl: The Peg Entwistle Story
(USA)
6:00 PM
Director: James Pomichter
SHORTS 17h PROGRAM
Inspired by a true story, set amidst the height of the great depression and during the golden era of radio, 'HOLLYWOOD GIRL' is a unique and creative tale about starlet, Peg Entwistle's suicidal tragedy in 1932. 
It takes place on the night of a film premiere, a film in which Peg's role had been almost entirely cut out. In the story Peg lives with her uncle Charles (Michael Rothhaar), her mentor in Los Angeles and looks to him in her last days as she begins to lose hope. 
Peg decides that her jump is a way to leave behind a legacy. In her last moments her thoughts and visions are wild, vivid, imagined, and raw as she begins her last steps of life toward the famous landmark.
BEST DRAMATIC SHORT FILM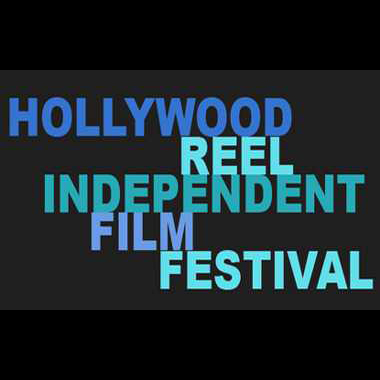 Red Carpet
5:30 - 6:45
Join HRIFF Celebrity Guests, Award Winners and film fanatics at the HRIFF Red Carpet Press event. Press, Media Photographers, and Paparazzi will be on hand from 5:30 to 6:45 to catch filmmakers, friends, family and celebrities in press images for the media wire services as well as print and online press. Staff Photographers will be on hand from 2pm till 11pm. Awards Ceremony to follow requires an Award Ticket purchase for entry, but his event is Free for all festival guests and filmmakers to attend! 
PRESS PHOTO EVENT

Feb 17, Regal Cinemas LA LIVE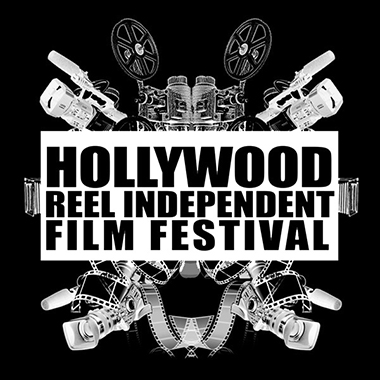 Awards Ceremony
6:45pm
This year has turned out to be the most star-studded Hollywood Reel Independent Film Festival ever!

With so many celebrities appearing on our Red Carpet and stopping by our Award Ceremony this is an event not to be missed. Between the Press and Award Winner ticket holders; the number of seats available to General Public are very limited, so get all your tickets now ....while Supplies Last!

Cheer on your favorite filmmaker or movie star (up and coming or cinema legend), and get ready to be surprised, ...as this event always ends up with a few unexpected celebrity guests and tributes!

The main event of the Hollywood Reel Independent Film Festival has hosted: Harry Dean Stanton (who brought the house to tears with an epic vocal rendition of Danny Boy), Gary Cole, Hilary Duff, Bruce Davison, Uwe Boll, Grace Zabriskie, Frances Fisher, Linda Bloodworth-Thomason, our dear friend the late Joe Polito, Dominic Purcell, John Heard, Danny Masterson, Christopher Masterson, Alanna Masterson, Tyler Blackburn, Joe Mantegna, and so many more in recent years.

With awards of merit being presented this year to William Fichtner, Lori Petty, Steven Weber, Jillian Armenante, James Hong, and Jonathan Banks, and to films created, produced, or starring legends like Pierce Brosnan, Sharon Stone, Warren Beatty, Diane Ladd... who knows what stars will surprise us at the HRIFF Award Ceremony stage this year?

Preceded by
Red Carpet Ceremony
5:30 - 6:45pm

Tickets available online only. Ticket Required.
No Other Tickets or Passes are for Award Ceremony Entry.
Award Ceremony Ticket Required.
HRIFF AWARDS CEREMONY

Feb 17, LA LIVE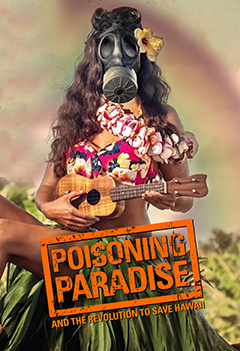 Poisoning Paradise
(USA)
8:00 PM
Director: Keely Shaye Brosnan & Teresa Tico
Journey to the seemingly idyllic world of Native Hawaiians, whose communities are surrounded by experimental test sites for genetically engineered seed corn and pesticides sprayed upwind of their homes, schools, hospitals, and shorelines. 
Discover what's at stake for Hawaii from local activists, scientific experts and healthcare professionals as they expose the effects of environmental injustice on a local population. Join the international debate about pesticides that is raging around the world, as well as the people's movement to hold corporations and governments accountable for poisoning planet Earth.
BEST DOCUMENTARY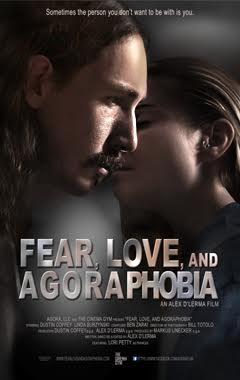 Fear Love and Agoraphobia
(USA)
9:15 PM
Director: Alex D'Lerma
Fear, Love, and Agoraphobia is a tough but tender story about an agoraphobic man and a volatile female Marine who become emotionally entangled as they struggle to escape from their self-made prisons.  
HRIFF Award-Winning Actress Lori Petty (Point Break, Orange Is The New Black, A League of Their Own) delivers a riveting performance as a former Marine drill instructor and bar owner named Frances. This is the feature film debut of Dustin Coffey and Linda Burzynski.
Director Alex D'Lerma ('Alvarez & Cruz') is excited to debut his second feature film at the Hollywood Reel Independent Film Festival.
BEST SUPPORTING ACTRESS - Lori Petty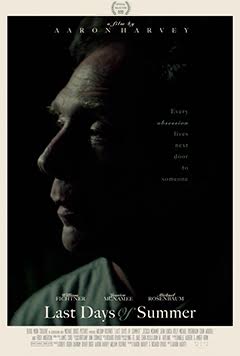 Last Days Of Summer
(USA)
10:00 PM
Director: Aaron Harvey
HRIFF 2017 Best Actor Award Winner William Fichtner (Empire, Elysium, Entourage, Prison Break, Black Hawk Down) stars as a man in a stagnant marriage, who finds his life upended when an attractive young woman, and her abusive husband move in next door. 
BEST DIRECTOR
BEST ACTOR- William Fichtner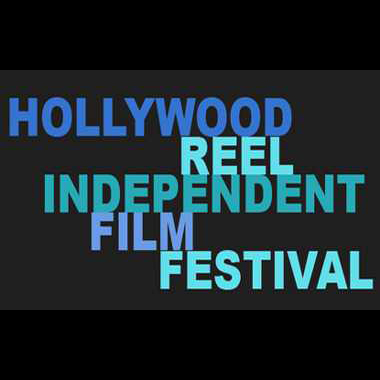 HRIFF Awards Ceremony After Party
10:30 PM
After seeing the Celebrities on the Red Carpet and in our star-studded Award Ceremony, you should head on over to our special secret After-Party Location inside of LA LIVE for our BIGGEST and WILDEST party celebration of the entire festival!

The HRIFF AWARDS AFTER PARTY takes place at LA LIVE near the Award Ceremony Theater and the Regal Cinemas where our film screenings are held that day.

Explore LA LIVE, drink, dance, meet your fellow filmmakers and have fun after a day full of Celebrity watching.

Who is to say what stars may come out to party and rub elbows with you?

Don't miss the most talked about and biggest party extravaganza of the festival!


AWARDS AFTER PARTY

Feb 17, LA LIVE