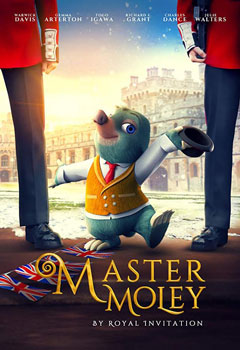 Master Moley: By Royal Invitation
(UK)
11:15 AM
Director: Leon Joosen
This animated film features an all star cast, including Warwick Davis, Gemma Arterton, Richard E Grant, Togo Igawa, Charles Dance and Julie Walters.
The story follows the adventures of a young mole who ventures to the great above on the search for a rose in the queens garden.
This small quest leads to an adventure which will change the world of Moles forever.
Winner - Best Animated Film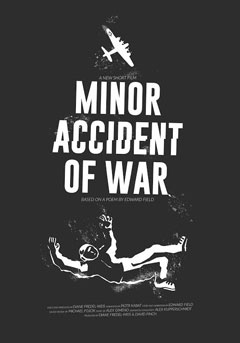 Minor Accident of War
(USA)
NOON
Director: Diane Fredel-Weis & Piotr Kabat
Doc Shorts Program 14A
Minor Accident of War combines contemporary animation and music with a true historical story.
In 1945, at 21 years old, WWll navigator, Edward Field, was on a mission over Germany with nine crew members when his plane lost all four engines and crash landed in the North Sea. Hanging on to one of the two life rafts in the freezing cold water during winter, a decision was made that to this day, 75 years later, has impacted Field's life.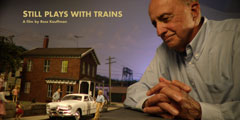 Still Plays with Trains
(USA)
NOON
Director: Ross Kauffman
Doc Shorts Program 14A
Still Plays With Trains captures one man's passion to share the joy of childhood.
By recreating his 10th birthday with a 3000 square foot replica of the old Lackawanna Railroad in his basement, he gives us a nostalgic glimpse of what it was like growing up in the 1950's.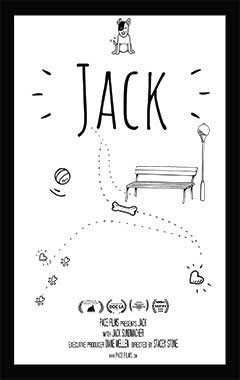 Jack (Documentary)
(USA)
NOON
Director: Stacey Stone
Doc Shorts Program 14A
How difficult is it to be a performer and how do you nourish your soul while fighting to reach your goal? In the end, we only regret the chances we didn't take.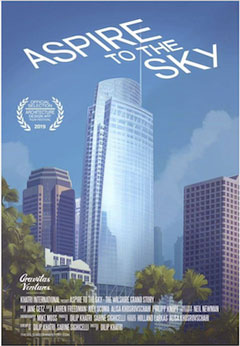 Aspire to the Sky: The Wilshire Grand Story
(USA)
NOON
Director: Dilip Khatri
Doc Shorts Program 14A
A documentary film about high rise buildings in seismically active zones. Architects and Engineers must solve complexities and create unique solutions for safe buildings.
This documentary shares the journey of designing a complicated tower in downtown L.A. directly over an existing earthquake fault, which was discovered during the construction process, and addressing the interaction of Art vs Engineering and the battle to keep the structure beautiful, but also safe.
Winner - Best Documentary Short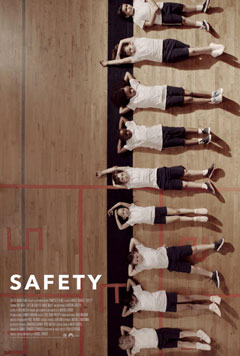 Safety
(France)
1:00 PM
Director: Fabrice Joubert
Independent Shorts Program 14B
In a small-town elementary school, 8-year-old Michael lays on the cold gym floor, stretching with the rest of his class. Suddenly the class hears the sound of a gunshot. As the children rush to seek refuge in their gym teacher's office, Michael senses something familiar about the shooter and makes a daring move, altering with of their lives forever.
Safety is an adaptation of the acclaimed short story by Lydia Fitzpatrick from acclaimed director Fabrice Joubert (Academy Award Nominee).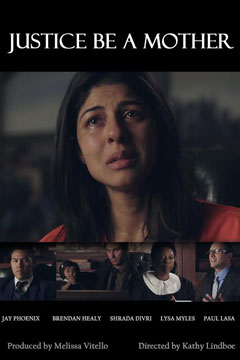 Justice Be A Mother
(USA)
1:00 PM
Director: Kathy Lindboe
Independent Shorts Program 14B
A mother is convicted of killing her son, forcing her to leave her young daughter in the hands of an incapable father, while she begs for her life in court.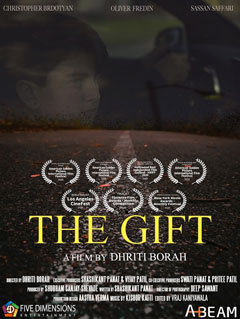 The Gift
(USA)
1:00 PM
Director: Dhriti Borah
Independent Shorts Program 14B
A short film about how innocent people become victims of drinking and driving.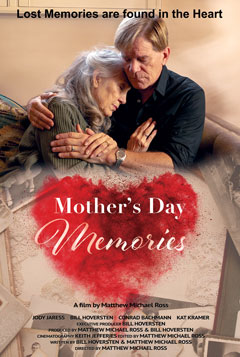 Mother's Day Memories
(USA)
1:30 PM
Director: Matthew Michael Ross
Family Shorts Program 14C
Inspired by true events and endorsed by Alzheimer's Los Angeles, MOTHER'S DAY MEMORIES is the story of a woman with Alzheimer's – and the family conflict surrounding her.
Faced with Mother's (Jody Jaress) deteriorating condition, her husband (Conrad Bachmann) fears her love for him will slip away along with her memories. He denies to the world there's anything out of the ordinary: "We all forget things as we get older."
At the same time, though, he desperately attempts to correct her memory loss by putting her through his homegrown regimen of mental exercises. But her son John (Bill Hoversten) bitterly opposes his father's approach, insisting that Mother be properly tested and treated for Alzheimer's.
John's wife Michelle (Kat Kramer) proves a steadying influence, keeping John stable. But when Mother and John are forced to confront her condition, she finally puts to him this haunting and universal question: "If I ever forget who you are, will you still love me?"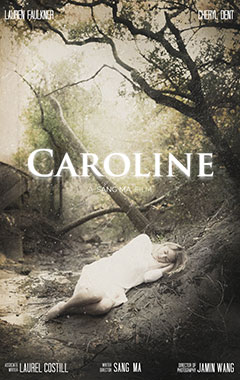 Caroline
(China)
1:30 PM
Director: Sang Ma
Family Shorts Program 14C
Caroline is protected in a cabin by her mother since she can remember. Mother always tells her that the witch they are hiding from cursed her father into a fish when Caroline was little.
As Caroline's 16-year-old birthday is coming, her request to leave the cabin gets rejected again. She is bothered by a recurring dream and becomes more and more curious about the outside world.
However, she realizes there's a bigger secret behind mother's lie...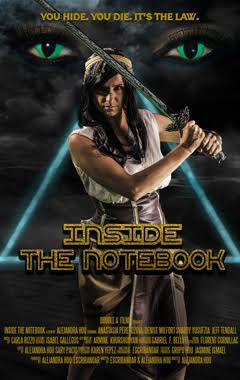 Inside the Notebook
(USA)
1:30 PM
Director: Alejandra Hou
Family Shorts Program 14C
On a planet located in another galaxy far away from earth where every child belongs to the Pharaoh, Istar attempts to rescue her mother after being separated for 12 years.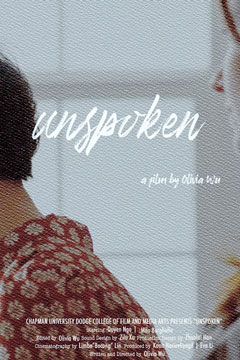 Unspoken
(USA)
2:30 PM
Director: Olivia (Zhengyi) Wu
Drama Shorts Program 14D
After noticing a bruise on her son's neck by accident, a single mom Jing tries to let her son speak out the truth even though she knows it is never an easy thing for him. In her search of the suspect, the more Jing investigates, the further she feels away from the truth, so is the relationship with her son.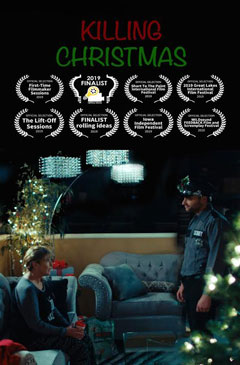 Killing Christmas
(USA)
2:30 PM
Director: Trudy Bellinger
Drama Shorts Program 14D
Holly hates the season of goodwill and decides to opt out of it altogether this year. Escaping from her family on Christmas Eve, she has a strange encounter with a store security guard but ends up getting the best festive present she's ever had.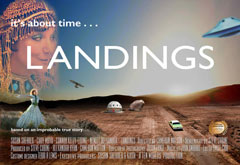 Landings
(USA)
2:30 PM
Director: Cameron Watson
Drama Shorts Program 14D
In 1977 a young taxman is sent to the odd Mojave desert town of Landings to collect back taxes from Wolfgang Von Himmel, a purported time traveler who locals say built a time-travel machine and left for eras unknown ten years earlier. In his investigation, the Taxman discovers the girlfriend Von Himmel left behind and her daughter, as well the town's jovial sheriff who seems to know a lot more than he's telling.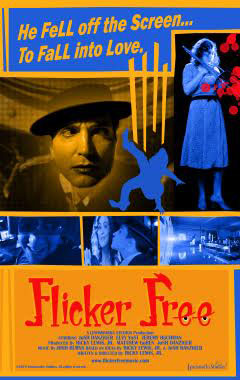 Flicker Free
(USA)
3:30 PM
Director: Ricky Lewis, Jr.
Comedy Shorts 14E
A famous silent movie character is stuck in an endless loop of one of his notorious scenes. His unlikely number one fan -a tablet computer- frees him from the digital realm, gifting fifteen minutes of freedom for a bite of the world's best hamburger and a chance at a love.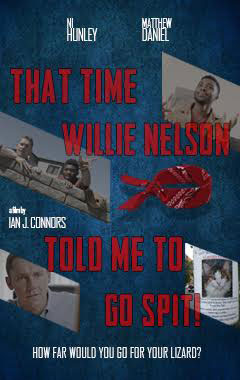 That Time Willie Nelson Told Me To Go Spit
(USA)
3:30 PM
Director: Ian J. Connors
Comedy Shorts 14E
John enlists the help of his hero to solve an overgrown problem. If it works, lives will be saved and a neighborhood will be at ease.
This short film asks the question: What is the limit of your friendship with your best mate? Should you meet your hero?
And really, what would you do for your lizard?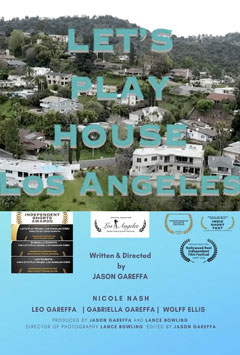 Let's Play House - Los Angeles
(USA)
3:30 PM
Director: Jason Gareffa
Comedy Shorts 14E
The real estate market is on fire!
For years, high-powered realtor, Nicole Nash, has dominated this high-stakes world of sky-rocketing price tags, cash deals and multiple offers. That is, until she meets Gabriella and Leo — her two most off-the-charts difficult clients yet. These demanding home buyers drive Nicole to the brink of an insanity she may not be able to find her way back from. Even with the help of her Tesla's GPS.
In order to pull off the deal of her career, Nicole is forced to get creative and find a solution even her clients won't see coming!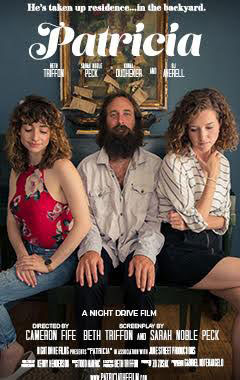 Patricia
(USA)
3:30 PM
Director: Cameron Fife
Comedy Shorts 14E
The real estate market is on fire!
Sarah and Beth are mostly perfect roommates, understanding and accepting of each other's differences and idiosyncrasies. That is until a seemingly homeless man decides to start living in their backyard. While Beth and her boyfriend Vinny are excited by the prospect of providing a home to the almost sage-like Patricia, the situation makes Sarah increasingly uncomfortable.
As tension mounts, Sarah and Beth are forced to decide whether Patricia stays or goes.
But one of them doesn't stick to the plan.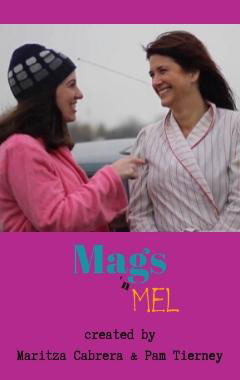 Mags 'n Mel
(USA)
3:30 PM
Director: Steve Stein
Comedy Shorts 14E
Two estranged sisters, Mags and Mel, are thrown together after the death of their father and forced to live under the same roof if they want anything from his will. Their sometimes funny and other times frustrating journey to reconnect as sisters and grow as individuals and answer age old questions of "what is a cougar?" and "when is it appropriate to streak?"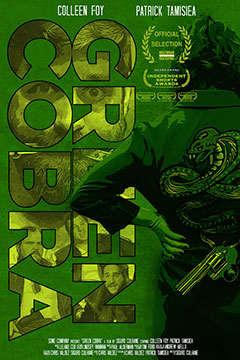 Green Cobra
(USA)
4:30 PM
Director: Sigurd Culhane
Shorts Program 14F
Beating fools to death for money might sound like a dream job for many, but for the GREEN COBRA, it's just another Tuesday.
Set in a world where a life of crime is just a couple of seminars away, we follow a peppy young woman through her average day as a hitman - sorry, "Life Ending Technician". We watch as she inflicts her own brand of disturbing torture, fueled by a burning resentment for a few too many disappointing ex-boyfriends, on a poor soul whose been saran-wrapped to a chair at the behest of a millennial crime boss. What began as a light filmmaking challenge among friends turned into this sensational, genre bending crime thriller, that has been blended with a quirky mockumentary.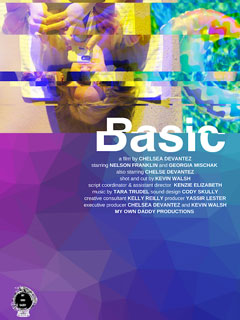 Basic
(USA)
4:30 PM
Director: Chelsea Devantez
Shorts Program 14F
This hilarious film is a dark comedy that explores the insecure lil' ho in all of us, by looking at the nasty, seething, pettiness of what it really means to... basic.
Starring Nelson Franklin (Veep, Abby's, Blackish), Georgia Mischak (Arrested Development, Love), and Chelsea Devantez, (Bless This Mess, Abby's).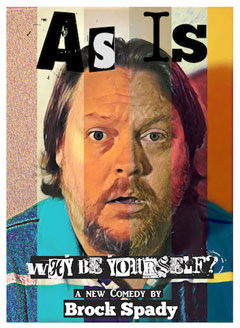 As Is
(USA)
4:30 PM
Director: Brock Spady
Shorts Program 14F
Freddie, a telegram delivery messenger, has no problem telling it like it is, unless it's about himself. When his self-embellishments get him in over his head with his dream girl, he's got to come clean and present himself 'as is'.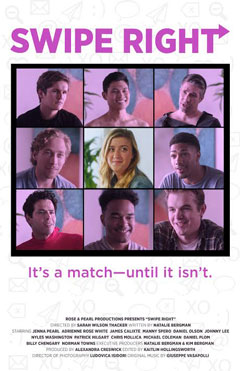 Swipe Right
(USA)
4:30 PM
Director: Sarah Wilson Thacker
Shorts Program 14F
In this romantic comedy, Hailey decides to give online dating a try – only to discover she must navigate a virtual minefield of bad behavior.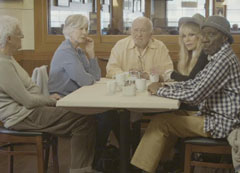 Five Old Comedy Writers!
(USA)
5:30 PM
Director: Dean Cameron
Comedy Award Shorts 14G
In this film, five old friends who are comedy writers (Ed Asner, Peter Bonerz, Dyan Cannon, Otis Day and Christina Pickles) argue about life, death, racism, what's funny, directors, film festivals, dating actresses (Candy Clark), murder, and bagels.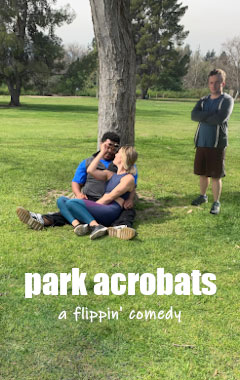 Park Acrobats
(USA)
5:30 PM
Director: Craig Thieman & Meredith Jackson
Comedy Award Shorts 14G
Becky organizes a gymnastics meet-up in the park in an effort to find her friend Zeke a date to his high school friend's wedding. Zeke, who tends to be unlucky in love, has some trouble meeting women. As more odd characters stop by, Zeke repeatedly gets rejected, …and becomes uncertain of Becky's master plan.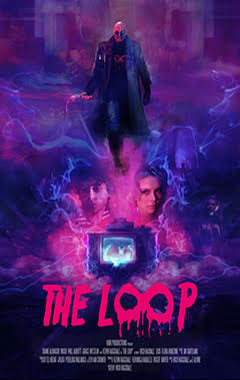 The Loop
(USA)
5:30 PM
Director: Rich Ragsdale
Comedy Award Shorts 14G
Mikey's older brother, Tommy, brings home a mysterious bootleg VHS tape of "the scariest movie ever made". What they expect to be a run-of-the-mill slasher flick ...turns out to be something much more terrifying.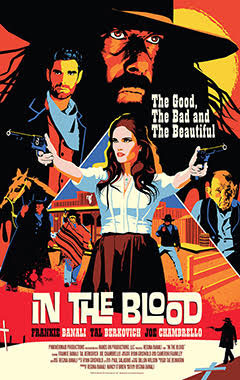 In The Blood
(USA)
5:30 PM
Director: Regina Banali
Comedy Award Shorts 14G
In the old west, Sartana rides into town to score some cash, form a gang and settle a score. His ex has been hiding out with an unwitting suitor. She has secrets that are are catching up with her.
She means to skip town but her beau confronts her looking for answers, ...and she doesn't make it out in time before having a shootout with Sartana and his gang.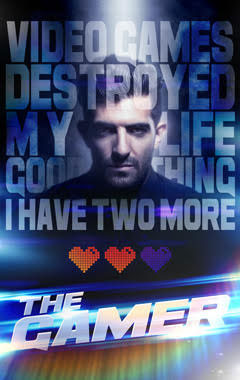 The Gamer
(USA)
5:30 PM
Director: Daniel Geyer & Chaz Nenneker
Comedy Award Shorts 14G
A famous pro gamer, who's reputation and life was destroyed by the gaming industry, wants to leave gaming to protect his sister from the same fate. But he must become a leader of the industry to do it.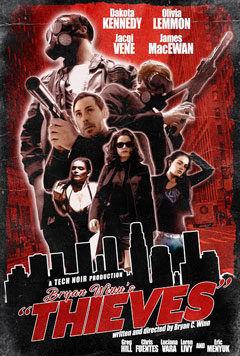 Thieves
(USA)
6:30 PM
Director: Bryan C. Winn
This feature is a throwback to films like Double Indemnity, Touch of Evil and The Killing. The story flows at a breakneck pace that will have you guessing until the last frame.
As a group of thieves assemble to rob Santa Anita Racetrack in Los Angeles, …we find that nothing ends up being what it seems.
World Premiere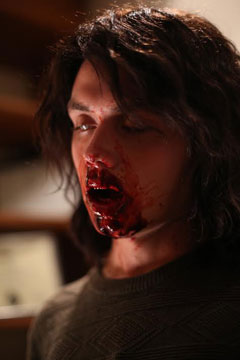 Killer Therapy
(USA)
8:00 PM
Director: Barry Jay
Brian is a disturbed child with sociopathic tendencies dealing with a father who doesn't love him, a mother unconvinced of his violent nature, and a newly adopted sister he believes is there to replace him. After a series of escalating violent incidents, he is bounced around from failed therapist to failed therapist, maturing into a young man still unable to escape his anger issues. When his life eventually falls apart by his own choices, Brian blames his series of failed therapists, embracing his dark nature and taking his revenge on everyone who ever wronged him - one by one, and understanding that accepting who you are inside can be the best therapy.
Winner - Best Thriller

Feb 14th, Regal Cinemas LA Live
R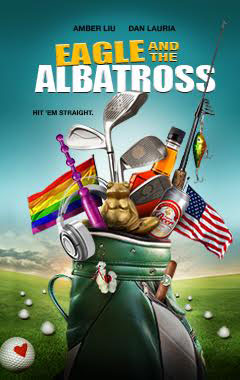 Eagle and the Albatross
(USA)
9:30 PM
Director: Angela Shelton
When an orphaned half-Korean teen finds herself in small town America with her only living relative, she seeks out a mentor to help with the only thing she loves, golf. The best player in town, the widowed optometrist, takes her under his wing, sending them on a journey to face their fear of losing loved ones and their game. The only problem is, he has three months to live.
Winner - Best Actor – Dan Lauria
World Premiere