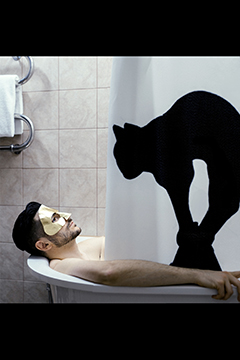 Hotel Latvia
(Latvia)
12:00 PM
Director: Monika Ivonne
Comedy Shorts Program A18
An American motivational speaker embarks on a quixotic day in Latvia, where he meets a colorful cast of characters and begins to question the very nature of his existence.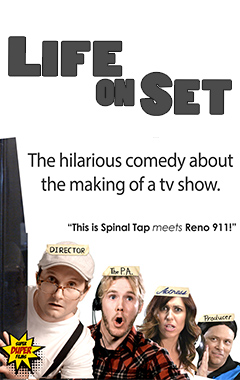 Life On Set
(USA)
12:00 PM
Director: Russell Robertson
Comedy Shorts Program A18
Hilarious mockumentary that shows life behind the scenes of a TV show.
Paul has dreamed of being a director and, according to his community college "professor" this is his chance. Paul pursues his passion and almost self-manifests himself up the ranks, …though it may not be for the best.
WORLD PREMIERE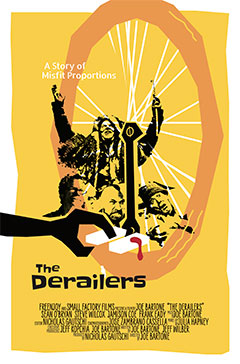 The Derailers
(USA)
12:00 PM
Director: Joe Bartone
Comedy Shorts Program A18
Two exuberant losers convince a broken bicycle repairman to deal with an uncooperative dead body.
Set in a real bike shop, Maurey has his patience tested by Merlin, a homeless man living in a fantasy world of his own creation. Merlin struggles with reconciling his vision of the world with the facts of his reality.
The film stars Sean O'Bryan (The Middle), (Olympus Has Fallen), and Steve Wilcox (American Me).
WORLD PREMIERE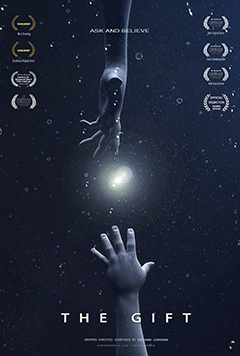 The Gift
(USA)
1:00 PM
Director: Giovanni Lodigiani
Drama Shorts Program B18
A mother's fear of losing a child entangled between life and death.
This short story unfolds as a mystic vision of human connections and emotions.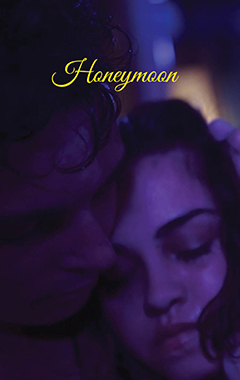 Honeymoon
(USA)
1:00 PM
Director: Haley Elise Pehrson
Drama Shorts Program B18
Honeymoon is a dream about life being like it is in the movies. It's about running away with the person you love to start a new life, and living happily ever after.
Angel and Lizzy set off on the road to do just that, but when they stop at a seedy motel along the way, they meet two people that force them to see the harsh reality of their situation in the most surreal ways
Honeymoon was shot in New Jersey and New York.
WORLD PREMIERE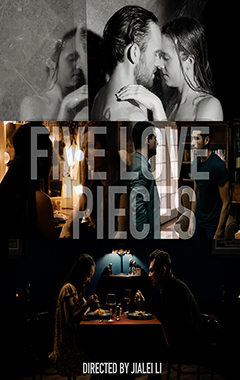 Five Love Pieces
(USA)
1:00 PM
Director: Jialei Li
Drama Shorts Program B18
Five Love Pieces consists of five short love stories about love and issues between couples.
WORLD PREMIERE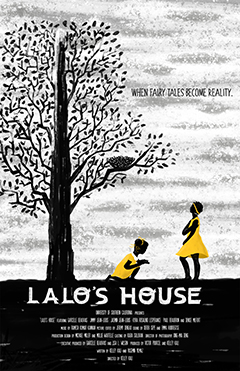 Lalo's House
(Haiti)
2:00 PM
Director: Kelley Kali
Drama Program C18
Inspired by true events, LALO'S HOUSE, follows the relentless courage of Manouchka, a 14-year-old Haitian girl, and her 5-year-old sister, Phara, who are abducted and thrown into an underground prostitution network that is posing as a Catholic orphanage.
Forced to grow up prematurely, Manouchka must fight to save Phara and escape.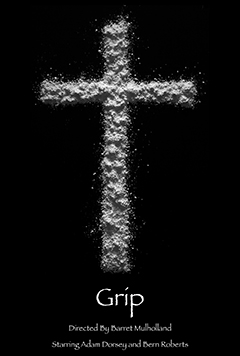 Grip
(CANADA)
2:00 PM
Director: Barret Mulholland
Drama Program C18
An ex-addict and widower, grieving at his local Church support group on the anniversary of his wife's death, tells the story about his unborn child lost due to an accident, in which he was driving.
Shortly thereafter, Mark's faith is put to the test when he is forced to help an old friend who is a reminder of his past demons.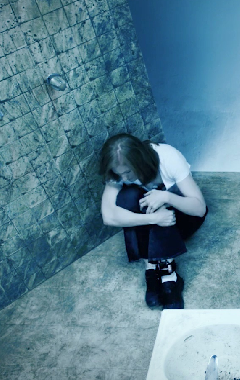 Waking Venus
(USA)
2:00 PM
Director: James Brown-Orleans
Drama Program C18
On day 1 of recovery from a 20 year battle with her eating disorder, Venus is forced to look in the mirror at her pain, her demons, and tumultuous past. She'll either acquiesce to their bitterness or take back control of her life.
WORLD PREMIERE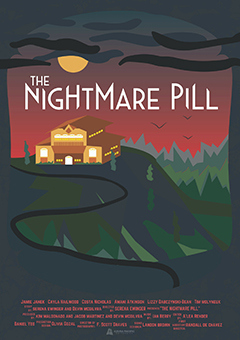 The Nightmare Pill
(USA)
3:00 PM
Director: Serena Ewinger
Shorts Program D18
Cameron is forced to drag her sister along to her dream job interview in an exciting new city, but mysterious circumstance may bring about dark secrets that could risk not only the interview, but their very lives.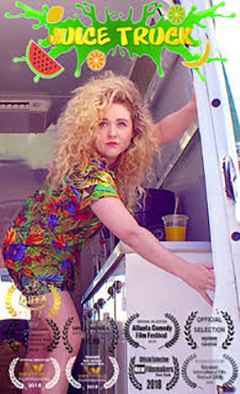 Juice Truck
(USA)
3:00 PM
Director: Mecca White
Shorts Program D18
An original comedy that follows the lives of three socially awkward women who work on a fresh pressed juice truck in Santa Monica California. Through friendship and hijinks, they manage to keep their business alive despite the competition of a rival juice truck run by Swedish models, and the lead character's never-ending battle to feel comfortable in her own skin.
WORLD PREMIERE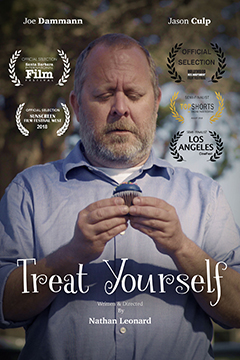 Treat Yourself
(USA)
3:00 PM
Director: Nathan Leonard
Shorts Program D18
A dark comedy short film that takes a unique look at suicide and depression. Things have never gone right for Peter, and nothing seems to truly satisfy, so he decides that maybe it's time to put an end to it all. However, just like his life, his death is hard pressed for success. But that's when he finds an online service that may finally meets his standards...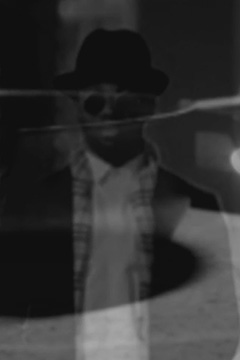 1947 - A Space Odyssey
(USA)
4:00 PM
Director: Tom Lazarus
Film Noir Shorts Program E18
Based on the last known writing of film noir icon Raymond Chandler, Sam Stoner, private eye, is hired to find a missing cow in New York City. Three corpses later, Sam solves his most unusual case in this new film noir classic.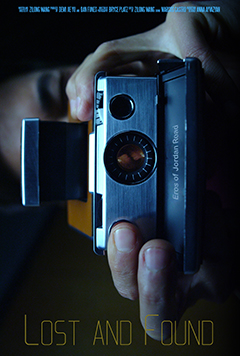 Lost and Found
(USA)
4:00 PM
Director: Zilong Wang
Film Noir Shorts Program E18
In a quiet hotel, a mysterious Asian woman is noticed by the staff. As hotel-worker Louis starts to do his own investigation, he realizes the woman could be a Hong Kong movie star, who has been thought to be dead for years.
When the truth is about to come out, things start getting out of control.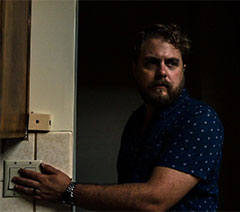 Miriam
(USA)
4:30 PM
Director: Ryan Murtha
Shorts Program F18
As Ted handles his late mother's affairs, he is confronted with an evil he never knew existed.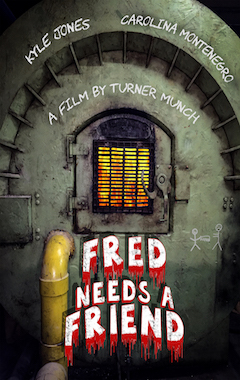 Fred Needs a Friend
(USA)
4:30 PM
Director: Turner Munch
Shorts Program F18
An amnesic man must escape the seemingly empty prison he woke up in but a mysterious gatekeeper must do her duty and saw him to pieces... or be his best friend?
Set in an odd prison asylum and boiler room, this quirky disturbing mystery is written and directed by Turner Munch and stars Carolina Montenegro and Kyle Jones.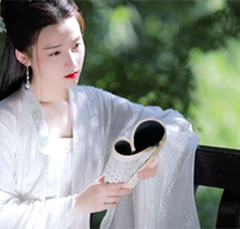 Remembrance of Past Dreams
(CHINA)
5:00 PM
Director: Jingyi Chen
Shorts Program G18
Every time when the moon shines bright in the sky, the girl always dreams of "her". But in her dreams, she can't distinguish whether that is herself in her previous life, or just a spectator looking at another girl's whole life. When the dream breaks, she realized neither of them could be everlasting, …but the moon beyond them can be.
No matter which life we were in, past or present, we were always looking at the same moon.
WORLD PREMIERE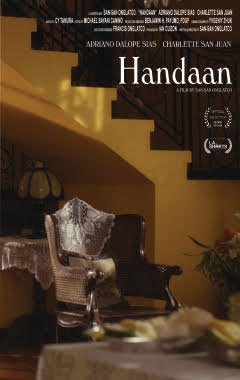 Handaan (Reception)
(Philippines)
5:00 PM
Director: San-San Onglatco
Shorts Program G18
The Mercado household is busy with last minute preparations for a big gathering. The youngest child, awaits his father's arrival, and begins to disrupt the household. After getting into a fight with his sister, his mother steps in.
An the boy realizes that he can no longer postpone the inevitable.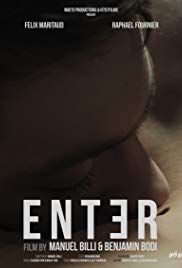 E.N.T.E.R
(USA)
5:00 PM
Director: Jack Impellizzeri
Shorts Program G18
An aging character actor goes on his first audition in more than twenty-five years.
Featuring ZACK NORMAN (Romancing the Stone, Cadillac Man.)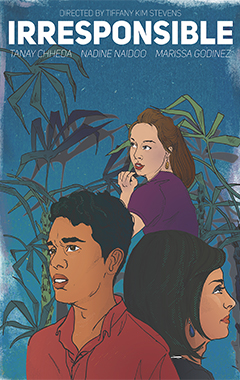 Irresponsible
(USA)
5:00 PM
Director: Tiffany Kim Stevens
Shorts Program G18
A young poet, Rohit and an ambitious Hollywood pop star, Bianca challenge each other's ideas on contemporary feminism.
What starts off as a polar confrontation transforms into a journey of discovery for them both. Rohit's childhood upbringing and tumultuous relationship with his single, alpha-mom put him on the cross roads of commerce and art. He chose his passion and his mom became the opportunity cost. Until Bianca gives him the opportunity to reevaluate his troubled past with a fresher perspective.
WORLD PREMIERE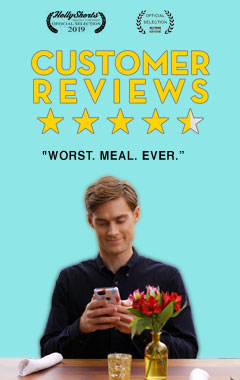 Customer Reviews
(USA)
5:00 PM
Director: Michael E. Peter
Shorts Program G18
One passionate Yelper's restaurant review detailing the life-changing events that occurred during what he's dubbed the: "WORST. MEAL. EVER."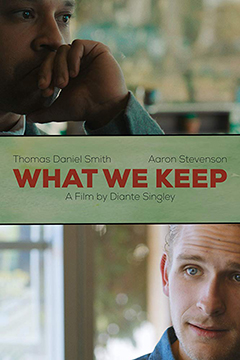 What We Keep
(USA)
5:00 PM
Director: Diante Singley
Shorts Program G18
As a student and his professor discuss the validity of a basic philosophy theory, they each come to understand how their traumas and lived experiences influence their differing arguments.
WORLD PREMIERE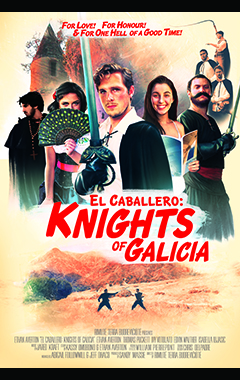 El Caballero: Knights of Galicia
(USA)
6:00 PM
Director: Terra Budreviciute & Ethan Averton
Action Comedy Shorts Program H18
A swashbuckling story set in the sweeping romantic world of Spanish Renaissance Drama.
WORLD PREMIERE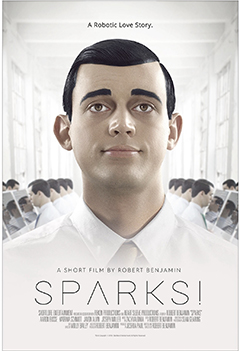 Sparks!
(USA)
6:00 PM
Director: Robert Benjamin
Action Comedy Shorts Program H18
A happy, code-typing worker android falls in love with his human female supervisor. Just one problem: every time he sees her, his heart literally explodes. Meanwhile, she has problems of her own.
Can they find a way to help each other?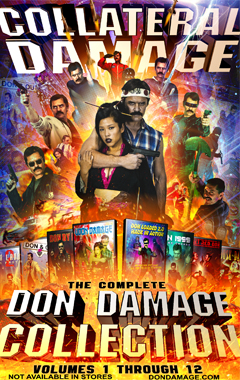 Collateral Damage: The Complete Don Damage Collection
(USA)
6:00 PM
Director: Mike L. Taylor
Action Comedy Shorts Program H18
NOT AVAILABLE IN STORES!!!
Don Damage - The Writer, Producer, Director and Star of your favorite Action, Comdey, Drama and Horror films from the 1980s (and into the early 90s) is selling off his legacy for pennies in this late night in-faux-mercial to buy his wife a pool, and build a bigger guest house for his faithful body guard Ron.
His entire back catalogue of 123 movies (Except for The Neon Ninja, still only available on laser disk) is now available to you, the fans, in 12 DVD box sets!!!
Not available in stores. For a limited time.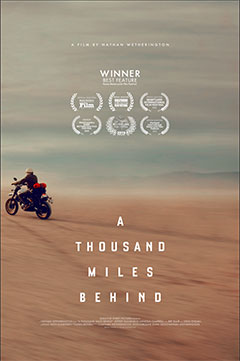 A Thousand Miles Behind
(USA)
7:00 PM
Director: Nathan Wetherington
After losing his wife and daughter in a terrible accident, Preston Avery finds himself suddenly trapped in grief and isolated in a now empty house with nothing but the ghosts of his previous life to haunt him.
As the days bleed together and the walls of the house slowly close in around him, all hope seems to be lost until a motorcycle mysteriously appears one morning on his doorstep, but will he be able to leave the past behind?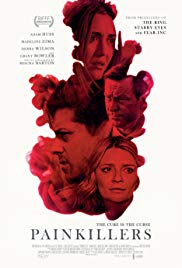 Painkillers
(USA)
8:30 PM
Director: Roxy Shih
After a terrible car crash in which his son dies, brilliant surgeon John Clarke, tormented by guilt, becomes prey to an unbearable physical pain. While his marriage starts disintegrating, John soon finds out that the only thing that can ease his pain is the taste of human blood.
When he encounters Herb Morris, a man who claims he can help him get his life back, John embarks upon a nightmarish journey through which he will either have to come to terms with his pain... or become a monster.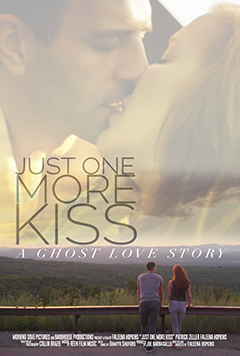 Just One More Kiss
(USA)
10:00 PM
Director: Faleena Hopkins
'Til Death Do Us Part' wasn't long enough for Max and Abby, when he is killed in an accident. His ghost returns to help her get over him.
How do you say goodbye twice?