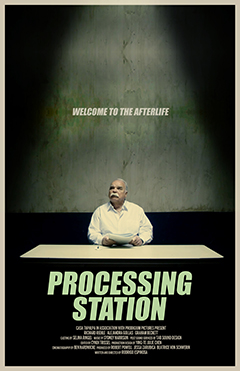 Processing Station
(USA)
11:00 AM
Director: Rodrigo Espinosa
Comedy Shorts Program A17
A optimistic man sets out to work one day, gets violently run over, and dies.
In the afterlife, he finds out religion was all real and a written test will determine if he goes to heaven or hell.
Starring Richard Riehle (Office Space).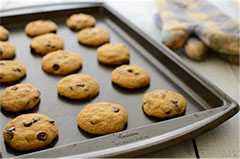 Baker's Dozen
(USA)
11:00 AM
Director: Wade Hallson
Comedy Shorts Program A17
A young couple are trying to have some family fun, but their brother has "other" ideas of what fun is.
WORLD PREMIERE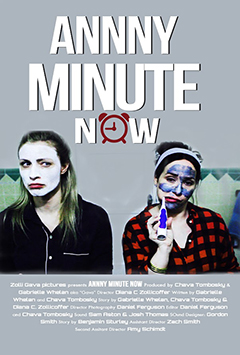 Annny Minute Now
(USA)
11:00 AM
Director: Diana C. Zollicoffer
Comedy Shorts Program A17
When two life coaches posturing success get outed as failures, they'll embark on a codependent quest to rebrand their business—and their lives—in this ultimate New Age comeback.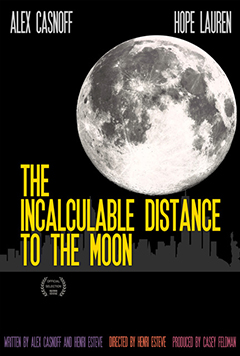 The Incalculable Distance to the Moon
(USA)
12:00 PM
Director: Henri Esteve
Shorts Program B17
A lowly video store clerk goes all in for his last chance at love with Meredith who has been hurt one too many times. After unsuccessfully trying to break up with him, she begins a negotiation.
WORLD PREMIERE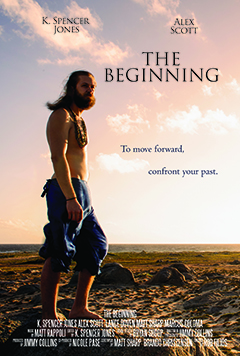 The Beginning
(Aruba)
12:00 PM
Director: Rob Filios
Shorts Program B17
This is a new take on a "Christmas Carol" but set on a desert island.
Waking up in purgatory, a man is confronted by a mute. After realizing he can't leave, he is shown scenes from his life. He then realizes the only way out is the way through. He needs to truly confront his past to the earliest beginning for true catharsis.
WORLD PREMIERE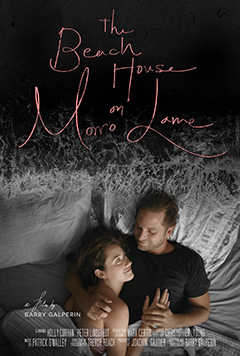 The Beach House on Morro Lane
(USA)
12:00 PM
Director: Barry Galperin
Shorts Program B17
On a lazy Saturday morning, a young couple discusses their future, as one inexplicably tells the other that this is the moment that leads to their breakup.
Starring Holly Curran (The Marvelous Mrs Maisel).
WORLD PREMIERE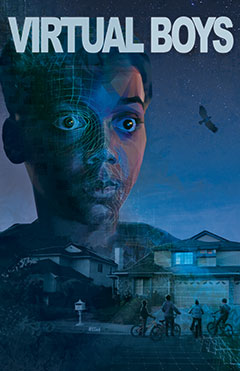 Virtual Boys
(USA)
12:00 PM
Director: Adam Loder
Shorts Program B17
Virtual Boys is a short dramedy about the relationship between youth culture and technology.
As virtual reality beings to take over a sleepy suburban neighborhood, a young and imaginative boy comes to a crossroads. Will he fight to retain his childhood innocence or succumb to the lure of the Virtual Boy?
WORLD PREMIERE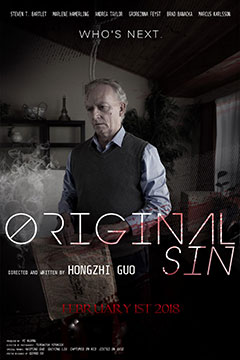 Original Sin
(USA)
12:00 PM
Director: Hongzhi Guo
Shorts Program B17
Short film crime thriller with dramatic killings, each step revealing the fragility of human nature and connivance of the desire. What would happen if the innermost desires of man were most satisfied? Maybe the result is horrible.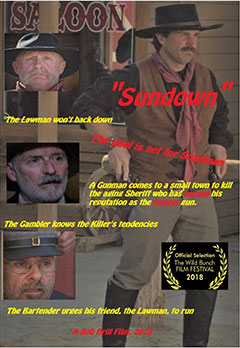 Sundown
(USA)
1:00 PM
Director: Bob Brill
Western Shorts Program C17
Inspired by the Bobby Sykes song recorded by Marty Robbins, "Sundown; the ballad of Bill Thaxton."
A killer named Sundown comes to a small western town to challenge an aging sheriff who was once known as "the fastest gun in the west" hoping to add to his reputation.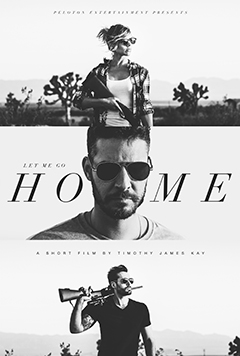 Let Me Go Home
(USA)
1:00 PM
Director: Timothy James Kay
Western Shorts Program C17
Two hired guns are sent into the Mojave to kill their Drug Lord's runaway wife - unaware of what awaits them in the desert.
WORLD PREMIERE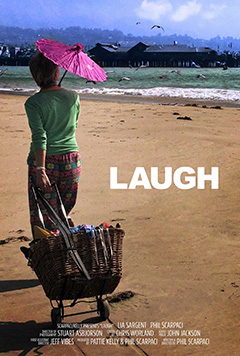 Laugh
(USA)
1:30 PM
Director: Phil Scarpaci
Comedy Shorts Program D17
Sometimes the best things in life keep you from being the perfect you.
WORLD PREMIERE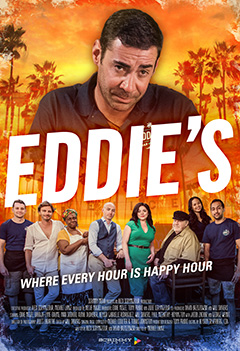 Eddie's
(USA)
1:30 PM
Director: Michael Lange
Comedy Shorts Program D17
A staple of the Venice Boardwalk, Eddie's Bar & Grille has been a safe haven for locals and a happening tourist attraction for decades. Hit with an eviction notice that seems impossible to avoid, Eddie himself worries that the location's legacy is finally coming to an end - but will the amiable collection of employees and regulars that inhabit the bar accept defeat so easily?
At Eddie's every hour is happy hour and all are welcome
Starring Eddie McGee (Big Brother season one winner), George Wendt (Cheers), Nikki SooHoo (Heathers), and Jacob Zachar (Greek).
WORLD PREMIERE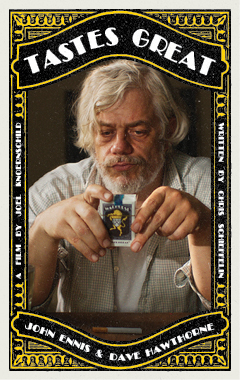 Tastes Great
(USA)
1:30 PM
Director: Joel Kazuo Knoernschild
Comedy Shorts Program D17
From Emmy Award Winning director Joel Kazuo Knoernschild & award winning writer Chris Schieffelin is a story about a broke, disenfranchised, middle-aged man one step away from homelessness rails against his own misfortunes and hatches a plan to make his life "great again." Mirroring reality, his skewed intentions pull him into a deal with the "devil," which he can never go back.
Starring John Ennis (Zodiac, Twin Peaks, Mr. Show), Dave Hawthorne, and Josh Fadem (Better Call Saul, 30 Rock, Twin Peaks).
WORLD PREMIERE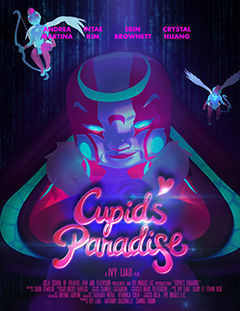 Cupid's Paradise
(USA)
2:30 PM
Director: Ivy Liao
Sci-Fi Shorts Program E17
In a world where everyone is rated based on superficial factors, Jenn is desperate to find a match within 100 dates before she becomes Cupid's slave.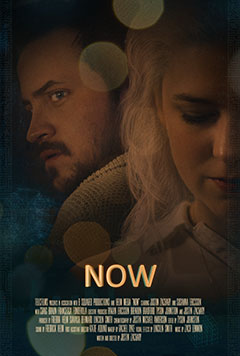 Now
(USA)
2:30 PM
Director: Justin Zachary
Sci-Fi Shorts Program E17
You can attempt to fix things that have gone wrong, but in the end, ...there are some things you just can't fix.
In NOW, Devon Van Santen, a computer scientist from the future, analyzes his girlfriends memories to discover a haunting truth that he's desperate to cover up.
WORLD PREMIERE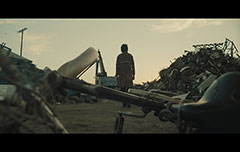 The Last Postman
(USA)
2:30 PM
Director: Enyi Zhu
Sci-Fi Shorts Program E17
A socially-isolated postman (Benjamin) continues to live an outdated lifestyle in modernized, technological society. He struggles to find a niche in modern society, while trying to remain uncorrupted.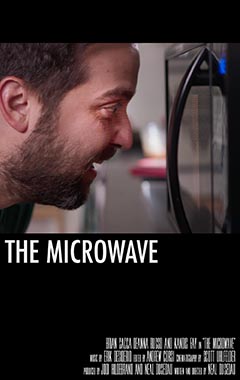 The Microwave
(USA)
2:30 PM
Director: Neal Dusedau
Sci-Fi Shorts Program E17
A professor with a secret to hide might have found the solution to his problem when his new microwave starts malfunctioning in a peculiar fashion. Starring Brian Sacca (TBS's "Wrecked"), Deanna Russo ("Powerless" and "Burning Love") and Kandis Fay ("Masters of Sex," I am Not a Hipster).
The Microwave is a darkly comedic sci-fi film about the strange ways the truth comes to light.
WORLD PREMIERE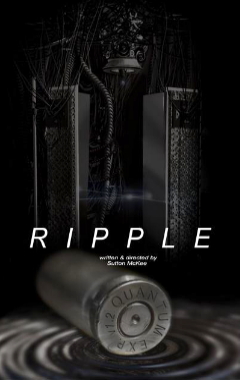 Ripple
(USA)
2:30 PM
Director: Sutton McKee
Sci-Fi Shorts Program E17
Jennifer, a recent college grad with a troubled past, is set up and blackmailed for a crime she did not commit.
Mysteriously bailed out by a stranger, she is offered a clean slate in return for incriminating evidence on a scientist thought to have killed his wife in an experiment to prove the theory of Quantum Suicide. Desperate, Jennifer sets out on a journey for her freedom, only to discover everything has been orchestrated into an elaborate trap and she is the scientist's latest victim in his quest to prove his dangerous theory.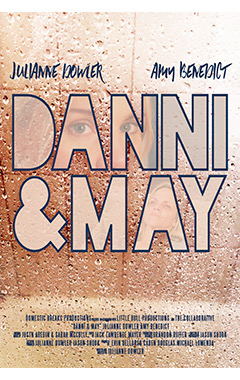 Danni & May
(USA)
3:30 PM
Director: Julianne Dowler
Drama Shorts Program F17
Danni is on edge as she struggles to financially and emotionally provide care for her caustic, invalid mother, May. When she finally takes a rare moment of respite, will the troubling relief from her unbearable burden cut too deep?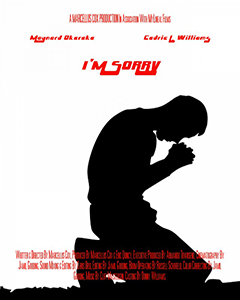 I'm Sorry
(USA)
3:30 PM
Director: Marcellus Cox
Drama Shorts Program F17
A man spends his last free day before heading to prison apologizing to everyone near and dear to him for betraying their trust in him.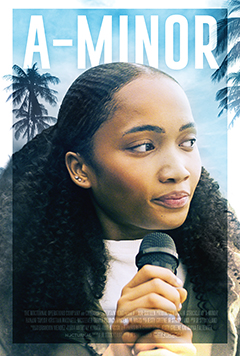 A-Minor
(USA)
3:30 PM
Director: JR Strickland
Drama Shorts Program F17
16-year-old Ayesha Minor sings on the Venice Beach Boardwalk and eagerly counts her humble earnings for the day. But during dinner with her parents all of her excitement comes to a halt. Ayesha's mom, in particular, expresses severe doubt, stating she wants Ayesha to get a "real" job and keep singing as a "hobby." This is not the life her parents dreamed of but a life Ayesha believes is worth going through great lengths to fight for.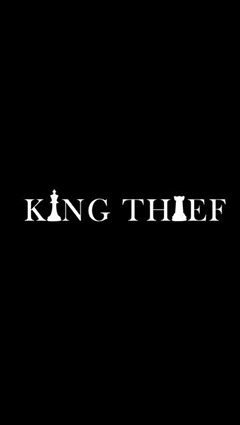 King Thief
(USA)
3:30 PM
Director: Johnny Rivas
Drama Shorts Program F17
Two of the most unlikely characters end up in one car together on a lonely desert road in the middle of the night.
'Rook' is a talented thief and David King is wanted for murder he claims he didn't commit. The two relate on the game of chess, and how this game unbeknownst to them can dictate the outcome of their lives. Rook tells a lie about his Grandfather with the best intentions behind it, hoping King will make the right decision in moving forward in his life, as fate plays out the way it's always meant to be.
WORLD PREMIERE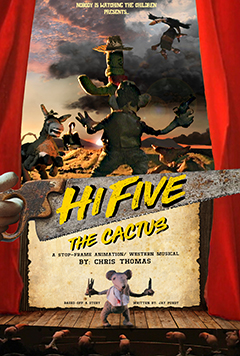 Hi-Five the Cactus
(USA)
4:30 PM
Director: Christopher A. Thomas
Animation & Video Shorts Program H17
A small desert town suffers a devastatingly-disastrous-drought. There only hope is an old-cactus, for whom this story is about. His selfless-sacrifice could keep the dusty-town alive! Let me introduce you to a cactus named Hi-Five!
Coming from the Fantastic Fest is the Animated Short Film Hi-Five the Cactus.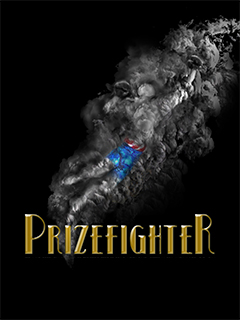 Prizefighter
(USA)
4:30 PM
Director: Lyndon J Barrois
Animation & Video Shorts Program H17
Prizefighter tells the story of legendary heavyweight champion Jack Johnson, the first African American heavyweight boxer to win the title and hold the crown for seven years.
It explores three pivotal days of his life between 1910 to 1946, recreating his infamous 'fight of the century' with great white hope Jim Jefferies, and touching on the tumultuous relationship with his first wife, Etta Duryea. Etta was white, signifying the brashness of Johnson's character to blatantly defy such taboos and racist norms in early 20th century America.
Prizefighter is also an artistic and technical achievement in that in combines old school techniques of classic stop-motion animation with new school shooting methods and equipment. It's characters are made entirely from chewing gum wrappers. A medium and method that is solely Barrois's own on the entire planet!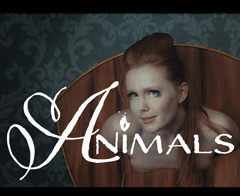 ANIMALS - Alya
(Russia)
4:30 PM
Director: Alya Michelson
Animation & Video Shorts Program H17
Artist Alya Michelson transports us into a world where mankind crawls at the bottom of animal kingdom in her new video Animals.
A surreal film where we see humans garnishing like animal trophies on the walls, living in cages, and locked inside a fish tank. Visually haunting, Animals is cinematically spellbinding where its nightmarish beauty is found in the shocking depiction of how weak and majestically decorative our own species can be.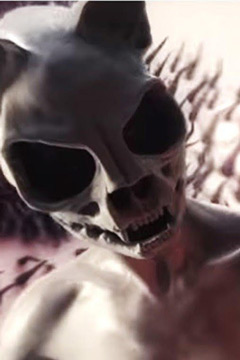 ODDKO - Disobey
(Italy)
4:30 PM
Director: Giovanni Bucci
Animation & Video Shorts Program H17
LA based Director/Motion Designer Giovanni Bucci unleashes a mythic story of Man vs. Machine and Nature vs. Technology through a dizzying explosion of VFX in his ambitious music video by way of multidisciplinary art project "Disobey", for ODDKO.
WORLD PREMIERE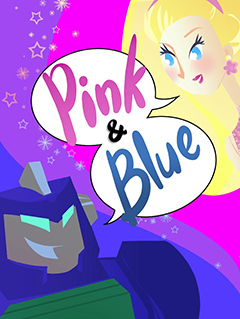 Pink & Blue
(USA)
4:30 PM
Director: James Parris
Animation & Video Shorts Program H17
'Pink & Blue' is an animated short promoting gender-equality and challenging gender-segregation from a toys-eye-view. Few things are more fulfilling than merging what you love to do with what you believe in. Daryl Hannah, Michael Madsen and LeVar Burton join voices with Yvette Nicole Brown as a group of toys segregated by gender on the day their world changes.
HRIFF AWARD WINNER - Best Animation Short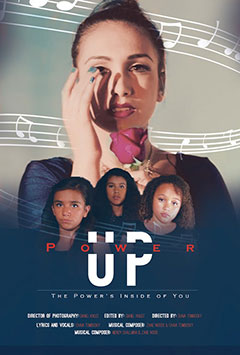 Power Up
(USA)
4:30 PM
Director: Chava Tombosky
Animation & Video Shorts Program H17
Power Up' is a music video to promote the empowerment of young girls in the Latina and African American communities.
WORLD PREMIERE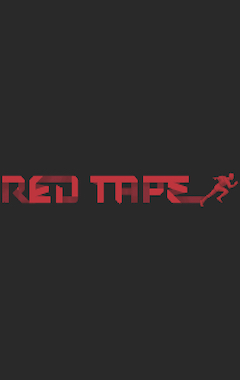 Red Tape
(USA)
4:30 PM
Director: David St. Clair
Animation & Video Shorts Program H17
In the not-too-distant future. Larry is enjoying a night out at a club with some friends. He is young and tech-savvy, relishing all the amenities and conveniences of the digital world. Everything in his life is intergraded and automated through a simple wrist bracelet. But, in a world where you are what your bar code says you are, a simple malfunction can create dire consequences.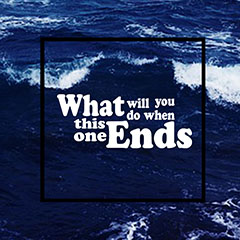 What Will You Do When This One Ends?
(USA)
4:30 PM
Director: Joshua Maya
Animation & Video Shorts Program H17
Miles is hung up on his ex. One night, he meets a beautiful stranger on a train, Kara. Ready or not, a new relationship has begun. If Miles can learn how to leave the past in the past, he might just be happy with being happy where he is and grow up a little bit in the process.
Then again, the cycle of self-sabotage might be too hard to break.
WORLD PREMIERE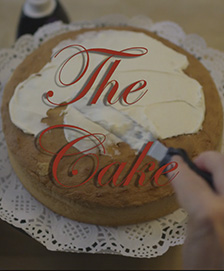 The Cake
(USA)
5:30 PM
Director: Meital Cohen Navarro
Drama Shorts Program I-17
A woman in her 80's discovers a letter from her late husband which reveals a secret he has kept from her for over 40 years. The secret involves her best friend, whom she has known most of her life.
She decides to confront her friend over a Sunday afternoon tea, despite the many years that have passed. In the end, their regular afternoon tea takes an unexpected turn.
WORLD PREMIERE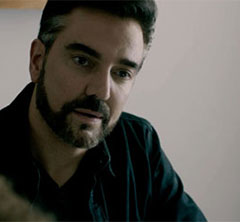 The United States of Tomorrow
(USA)
5:30 PM
Director: David C. Keith
Drama Shorts Program I-17
The United States of Tomorrow is a look into a potential future where gun violence, mass shootings and their root causes have not been adequately addressed.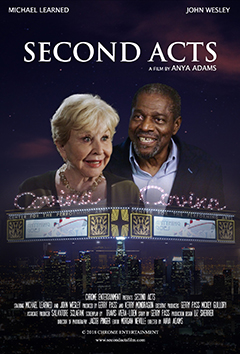 Second Acts
(USA)
5:30 PM
Director: Anya Adams
Drama Shorts Program I-17
Two perfectly compatible individuals who find themselves in a strange dilemma: as people in their 70s, who grew up in a world strictly opposed to interracial courtship, …not allowed to love each other, when one is white and one is black?
Second Acts shows how easily love can overcome our baseless preconceptions, and displays the truth that we are not always who we were raised to be.
Starring Michael Learned (The Waltons), John Wesley (Holly Day, The Midnighters).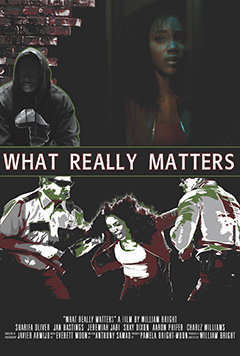 What Really Matters
(USA)
5:30 PM
Director: William Bright
Drama Shorts Program I-17
'Hailey' is enamored with 'Tarik', the charismatic leader of the campus social activism movement and agrees to attend a campus protest rally with Tarik, which results in her arrest.
Although her grandfather suspects that the circumstances surrounding the arrest are suspicious, no one could have foreseen the powerful forces that have conspired against her.
WORLD PREMIERE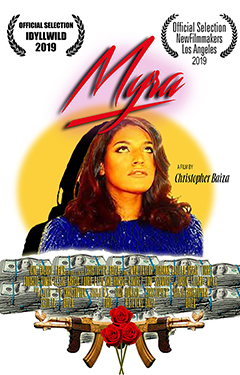 Myra
(USA)
6:30 PM
Director: Christopher Baiza
A Transgender Latina girl who struggles with acceptance by her family and barrio, finds love with a notorious gang-leader.
Her world takes a turn when she finds out that he is only in it for the money, and involved with the Mexican Cartel and decides to escape the world she has created.
HRIFF AWARD WINNER- Best LGBTQ Film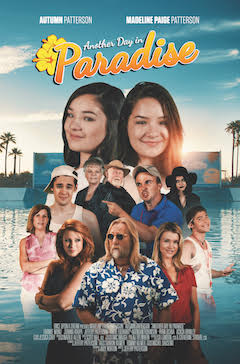 Another Day in Paradise
(USA)
7:30 PM
Director: Jeffery Patterson
Brooke and Alexis, are twins looking forward to a summer of fun working and hanging out with their fellow Life Guards at the Water Park.
It's been a tough year since their mom died and while their youthful resilience finds them ready to move forward they are worried about their dad, Jeremy, who has yet to come to terms with all the changes in his life in raising his daughters alone. Brooke and Alexis test Jeremy's patience to the breaking point, and all three of them question the right path for their future, in what is no longer Another Day In Paradise.
Featuring: Franke Muniz (Malcolm in the Middle / Dancing with the Stars), Judy Norton (The Waltons), Joanna Krupa (Real Housewives of Miami), Brendan Robinson (Pretty Little Liars), Ryan Ochoa (Pair of Kings), Angie Everhart (Last Action Hero), Jeffery Patterson (Finding Harmony, Hot Bath an' a Stiff Drink)
HRIFF AWARD WINNER - Best Family Film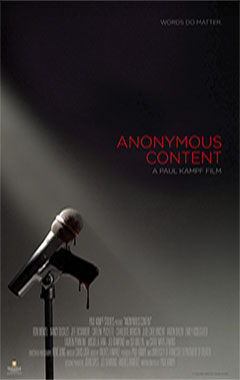 Anonymous Content
(USA)
9:00 PM
Director: Paul Kampf
A voice that has no face becomes a soothing friend to a disturbed young man searching for his identity in a city torn by racism, political correctness, and gun violence.
The two men have never met, but they create a bond that causes two deaths, starting an unfortunate social media trend.
WORLD PREMIERE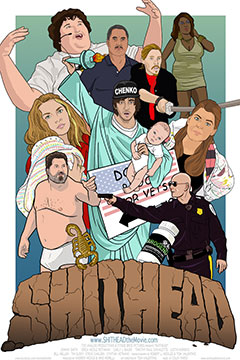 Sh*thead
(USA)
10:00 PM
Director: Mike Morelli
Jordan's epic quest to get as high as possible and see his favorite rapper hits a snag when he is unable to score drugs.
Undeterred, he tries to sell his girlfriend's baby.
WORLD PREMIERE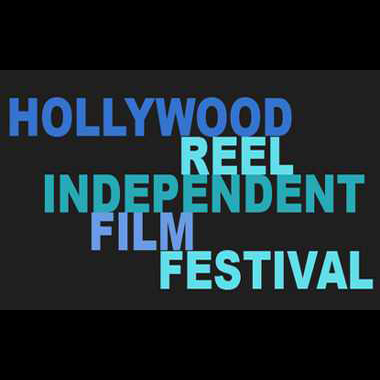 Sunday Night Reception
9:45 PM
The HRIFF Sunday Night Reception Event takes place in Downtown Los Angeles near LA LIVE.
Have drinks and socialize in downtown Los Angeles.
Meet your fellow filmmakers and have fun and drinks after a day full of film screenings.
Another fun-filled social event that is not-to-be-missed!

Feb 17th, Regal Cinemas LA LIVE